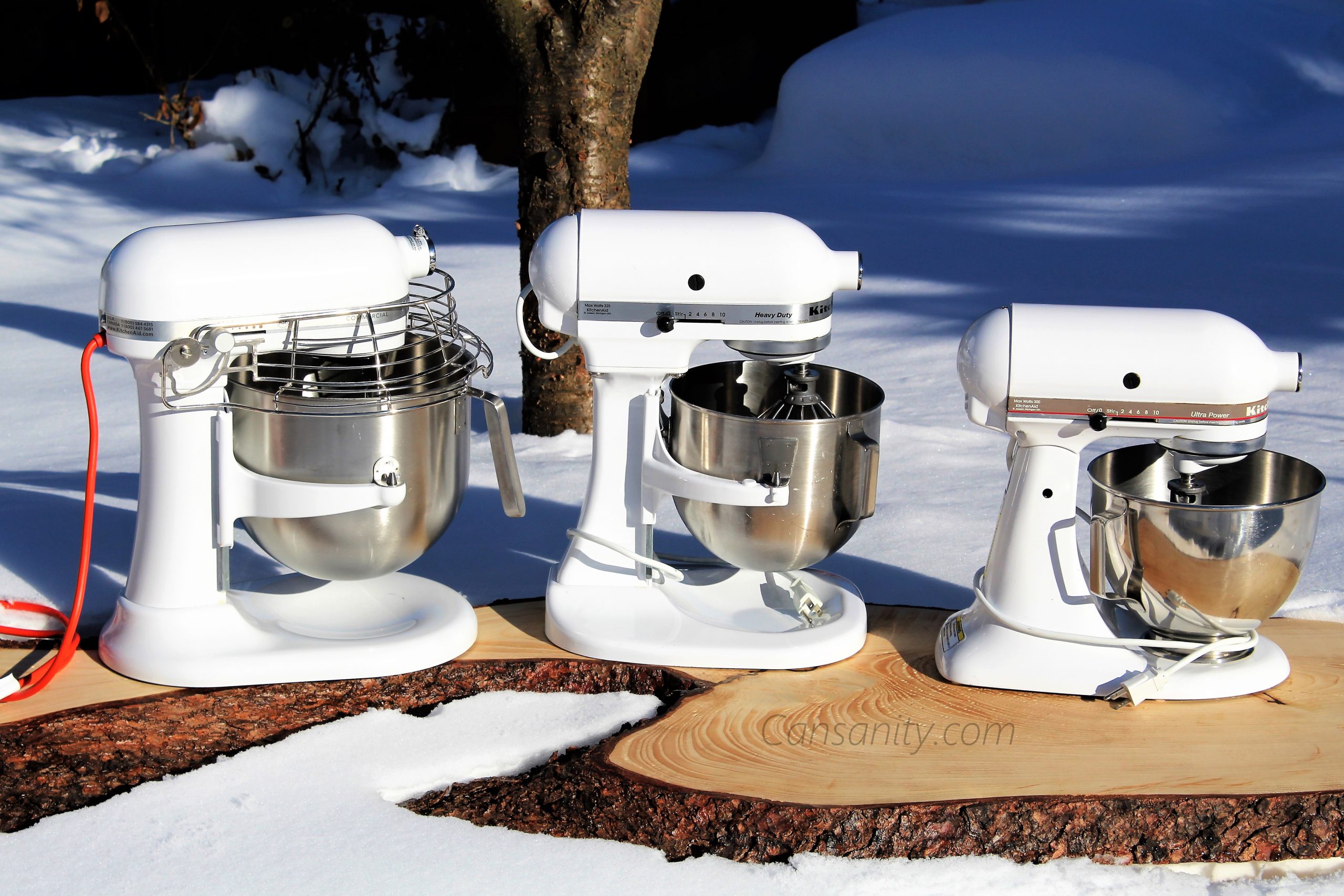 Shopping for a stand mixer these days can be overwhelming. There are so many models to choose from with different bowl shapes and capacities, motor sizes and fancy names. I hadn't realized just how many options there were until a friend asked me at Christmas which stand mixer I would recommend. I did a bit of research on the topic, and then it got me thinking I should write a blog and make a video about KitchenAid stand mixers  and the differences between the tilt and the lift models. So here it is.
I have only ever owned KitchenAid stand mixers, and so I will focus the blog on  this particular brand.
Let me start by telling you about when I upgraded from my hand blender to a stand mixer. I was in my thirties, my daughters were young, and we were in those prime birthday party years.
Prior to this time in my life, I hadn't really made too many cakes; I just wasn't a fan of icing. However, my eldest daughter was diagnosed with allergies to nuts and peanuts, and because nut-free cakes were not readily available for purchase, my cake making journey began.
I thought the best way to learn how to decorate cakes was to take some courses. I took all the cake decorating courses that were offered by Wilton, and, in the end, learnt how to use fondant, colour flow, and meringue powder. I finished the course knowing how to decorate a three-tiered wedding cake.
Sometime in the midst of all this flour, shortening, butter and icing, my mom came to visit from out of town. She saw first hand all the hand mixing I was doing and thought it was madness. She asked me to put on my coat and took me to The Bay. She didn't tell me until I got there that she was going to change my baking life forever; she was going to buy me a KitchenAid stand mixer.
I remember telling her, "No really it is fine, I can manage with my hand blender". But kitchen gadgets were my mom's thing, and when she decided to buy something, that was it, there was no changing her mind. I remember carrying that big beautiful box of icing salvation on my shoulder – tall and proud.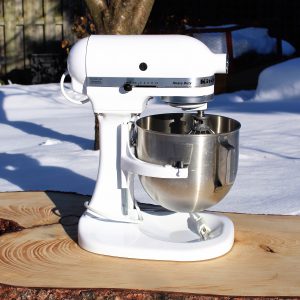 I have had that mixer, called "Heavy Duty" ever since.
This "Heavy Duty" mixer, nicknamed  "Ice Baby", has a 325-watt motor, a five-quart bowl capacity and functions with a lift mechanism. She has performed well for me for 20 plus years!
The options were limited back then – the appliance was only offered in white and I believe was only available with the lift mechanism. Now there are two types, lift or tilt and a range of bowl and motor capacities. Just to make this easy to compare, I have put the options in these tables.
Model
Bowl Capacity
(Litre/Quart)
Bowl
Options
Motor
Wattage
Colour
Options
Artisan Mini
3.5
metal
250
white, black, red
Classic
4.5
metal
250
white, black, red
Ultra Power Plus
4.5
metal
300
white, black, red, ice blue
Artisan
4.7-5
metal
325
28+ colours
Architect
5
glass or metal
325
metallic in chrome & empire red
Model
Bowl Capacity
(Litre/Quart)
Bowl
Options
Motor
Wattage

Colour
Professional Plus
5
metal
450
black & graphite, red, ice blue, milkshake pink
Pro Heavy Duty
(HD) Series
5
metal
475
red, black and silver
Professional 600
Series
6
metal
575
white, red, pewter, black, silver, milkshake pink, ice blue
Professional 6500
6
metal
1000
(1.3 HP)
red ,black, silver
Pro Line Series
7
metal
1000
(1.3 HP)
red, black, silver, white
Limited Edition Pro Line Series
7
metal
1000
(1.3 HP)
copper, clad
Commercial Series
8
metal
1000
(1.3 HP)
pewter, red, black, white
So, for the average home baker, how can this information be useful?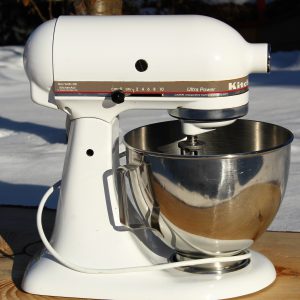 In a nutshell, bigger is not necessarily better. About 8 years ago, I bought a second-hand Ultra Power KitchenAid stand mixer which has a four-quart bowl, runs with a 300-watt motor and is a "tilt" model. I jumped at the chance to buy this smaller stand mixer second hand because even though the  "Heavy Duty" lift model has been a reliable appliance, she does have her downfalls.
The shape of the "Heavy Duty" bowl or any "lift" stand mixer is not ideal for whipping up small quantities (for example 1/2 cup) of whipped cream or meringue. My new-used "tilt" mixer, the Ultra Power, has a tapered bowl which is distinctive to all the "tilt" models and so the whip attachment works great for small batch whipping. So, it's quite fitting that I nicknamed this stand mixer "The Whipper".
The other great feature of this smaller stand mixer is that she fits well under my counter, and there is quick access to the bowl which allows you to add ingredients while mixing.  To stir, just tilt the beater up and mix with a spatula.  With the larger lift mixers, accessing the bowl requires dropping the bowl and having to work around the beater.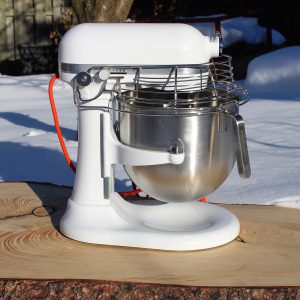 My latest KitchenAid stand mixer acquisition has been the "Commercial". It has an 8-quart bowl, runs with 1.3 Horse Power (equivalent to 1000 watts) and is a "lift" model. I bought her this year because of all the work I am doing for Cansanity and so have nicknamed her "Cansanity".
Not only do I use my stand mixer appliances for baking, but I also use them for making pasta, grinding meat, and making pasta sauce from garden fresh tomatoes. To do this, I just attach the pasta maker, the meat grinder or the fruit/vegetable accessory. I wanted a stand mixer that I could run several times a day without worrying about it overheating.  It is important to note that these extra accessories work on all of the KitchenAid stand mixers. You do not have to have the "Commercial" KitchenAid stand mixer.
For those new bakers out there, that are not sure what bowl size is appropriate for you, here are just some examples of what you can process in a 5-quart bowl.
9-10 cups of flour. This is the amount of flour that I use in my "Classic Bread Recipe" which yields 4 loaves of bread. For your reference here is the Classic Bread Recipe
12 egg whites. This is the amount of egg needed for angel food cake. When you whip these egg whites they really increase in volume. For your reference here is the Angel Food Cake Recipe
If you choose to buy a stand mixer with a 4.5-quart bowl size, you will easily be able to make single batch cookie dough, meringue for pie, whipped cream for desserts, and a three-layer cake. For those bakers, that want to make double or triple batches of cookies, then consider getting the 6-7-or 8-quart bowl.
The bottom line is that you should ask yourself how you plan on using your appliance.
Will you be making bread dough?
I jump to this question because bread dough is one of the stiffer doughs that you can make using this appliance. It is important to consider the stiffness of the dough because the stiffer the dough the harder the motor needs to work. The stand mixers with wattage under 300 can certainly handle making a bread dough for one loaf of bread, but if you are planning on mixing up enough dough for more than one loaf of bread regularly you should consider buying a mixer with a higher wattage.
Are you planning on making bread every day, week or month?
If you run the motor on your stand mixer for long periods of time, it can heat up. So, if you are planning on running your appliance a lot and or many times a day, you should consider getting one of the models that has more power. The higher the wattage, the higher the power.
Are you only interested in making cake batters, icing, meringue and whipped cream?
All of the stand mixers, with maybe the exception of the Artisan Mini, will work for these purposes. I would suggest that you consider the tilt models because adding in colour tints and add-ins like chocolate chips or nuts can be scraped down and mixed more easily.
Are you considering purchasing one of the accessories so you can use your stand mixer for other things? For example, you can use the fruit/vegetable strainer attachment for making pasta sauce.
I buy bushels of tomatoes to process into pasta sauce, and so using the "Commercial" KitchenAid stand mixer is great for me because I run the appliance for long periods of time. Having said that, I have used the "Ultra Power" when I am only processing 2 batches of 10 pounds of tomatoes, and that works just fine.
The only other differences that you should be aware of are presented in this table.
Type
Key Application
Height/Weight
Key Design Element
Tilt
Very efficient at whipping small batches of whipped cream and meringue because of bowl shape and size
Shorter (My Ultra Power is 14" tall)
The tilt models are lighter

Movement on the top of the mixer can occur especially when mixing stiffer doughs. This is because the tilt design has a lever
Lift
Double and triple batches are easily made because of bowl size. Very efficient at mixing large batches of stiff bread dough
Taller (My Heavy Duty is 16 ½" tall)
The lift models are heavier

Sturdier design with the lift mixer and so there is little movement when the machine is running
If you plan on putting your KitchenAid stand mixer on the countertop under your cupboard, measure the clearance. The tilt stand mixers are shorter and lighter. But be aware that when the appliance is running, you might find that there is a bit of movement in the top of the tilt mixer.
I am so happy to be able to share what I have learned about KitchenAid stand mixers. I love all three of my kitchen "babies". I hope this blog has been helpful; please leave a comment and share your experience!