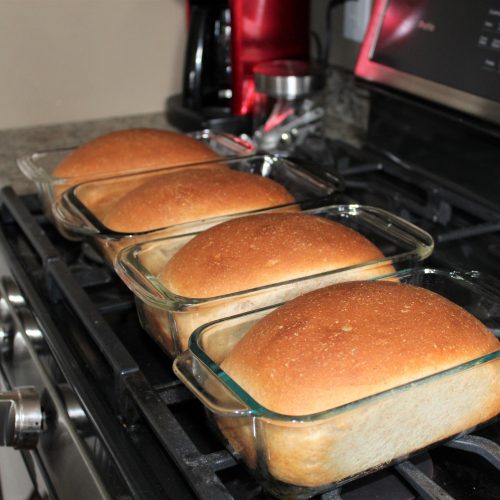 Classic Bread Recipe Yielding 4 Loaves
I had to share this bread recipe first, as it was the bread my daughters were raised on. In fact, I swear the only breakfast my youngest daughter would eat was this bread with honey on it, from the time she could speak until she was 5 years old. We laugh because she would just yell out from her chair, "More honey bread!" I used to start this bread, and then go to the park or the library with the kids; sometimes it would over proof, but once I punched it down and put it into the loaf pans, it would rise well. You can easily experiment with the dry ingredients by adding oats, flax seed or use a " Best for bread" multigrain flour to substitute up to 2 cups of the all purpose flour.
YIELD :
4 loaves of bread or 32 buns
Equipment
optional - Kitchenaid mixer with a dough hook
Ingredients
Proof the regular yeast:
1/2

cup

water

lukewarm

2

tsp

sugar

2

tbsp

yeast
Remaining bread ingredients:
3½

cups

water

lukewarm

¼

cup

sugar

½

cup

safflower oil

4

tsp

salt

8½-10

cups

flour

Usually I use 2 cups of whole wheat
Instructions
Proof your yeast in a small bowl by combining ½ cup warm water, 2 tsp sugar and 2 tbsp of active dry yeast. Stir and let it stand for 10 minutes.

In a large bowl, mix 8 cups of the flour and the rest of the ingredients including your proofed yeast. Add more flour until the dough is not too tacky. Turn out onto a floured surface and knead the dough for 7 minutes. The dough should be nice and elastic but have a good structure.
Alternatively using a KitchenAid :
In your large KitchenAid bowl, mix 8 cups of the flour and the rest of the ingredients including your proofed yeast. Using your dough hook, add an additional cup of flour until the dough forms a ball. Mix for 5 minutes. Touch the dough, if it is tacky, add some more flour. The dough is ready when it pulls away nicely from the bowl and is not too tacky when touched.

Grease a large glass bowl lightly with butter or oil. Place the bread dough in the bowl and cover it with a towel. Let it rise in a warm place for 1-1½ hours. It will be slightly under doubled in size.

Grease 4 loaf pans with butter or line a baking sheet with parchment paper.

Punch down the dough and separate into 4 balls. If using the dough to make 4 loaves, shape into 4 loaves and put into 4 buttered loaf pans. Alternatively, you can make 2 loaves and form buns out of the remaining dough.

If making buns shape into buns and place on lined baking sheets.

Let the dough rise again for about 50-60 minutes or until just under doubled in size. (The bread will continue to rise in the oven so it is not necessary to wait until doubled in size.)

Preheat your oven to 375°F. Bake the bread for 30-35 minutes. (Buns will only take 15-20 minutes to bake.)

Remove from the oven and cool in the pans for 5 minutes. Run a blunt knife on the inside edge of the pan.

Remove the bread from the pans and cool on a wire rack.
Nutrition
Calories:
107
kcal
Carbohydrates:
18
g
Protein:
2
g
Fat:
3
g
Saturated Fat:
1
g
Sodium:
195
mg
Potassium:
28
mg
Fiber:
1
g
Sugar:
1
g
Calcium:
4
mg
Iron:
1
mg