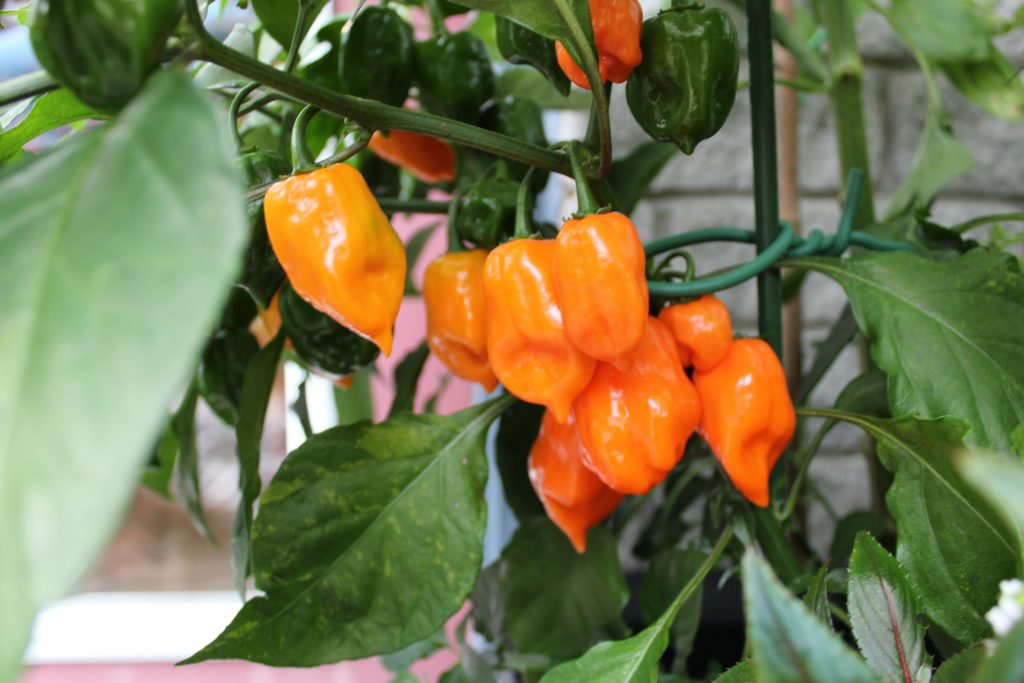 Peppers are such a versatile vegetable to have on hand in your pantry.  They are great fresh, amazing in a stir fry, a chili or soup, and they maintain a lot (80%) of their nutrients when canned or frozen.
Peppers keep well in the fridge – if unwashed, up to 10 days.  They also do not  require blanching before freezing, making it convenient to save for use in the winter months.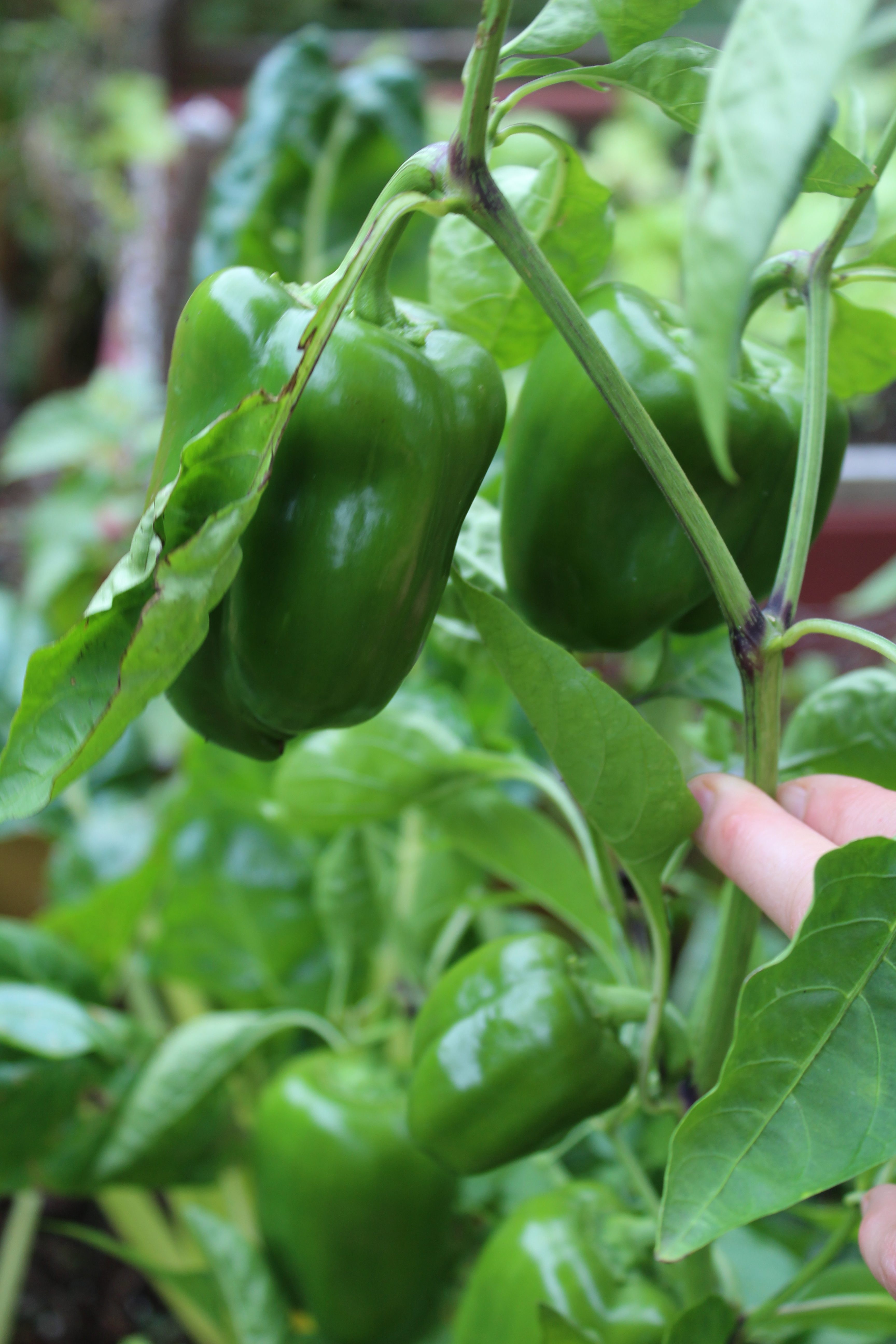 "Bell peppers" often just referred to as red, orange, yellow or green peppers are very nutritious.  One red bell pepper has twice the amount of vitamin C as an orange! These nutrient packed vegetables also have vitamins A, B6, K, E and elements such as potassium, magnesium, phosphorus and manganese.  Bell peppers are also full of antioxidants, making them a tasty super food.
Peppers are rated for heat in Scoville heat units with bell peppers at zero.  Jalapeno peppers have around 3500-8000 units and, well one of my favorite peppers habaneros, pack between 150 000 to 300 000 units.  There are even hotter peppers, such as ghost peppers. So, if habaneros do not pack enough heat for you, grow or pick up some ghost peppers at your local farmers market.
If you would like an easy way to add "kick" to your recipes, hot peppers, such as habaneros, dehydrate well using a dehydrator.  Just wash, quarter and seed your peppers, and then process them according to your dehydrator's instructions. Then store them in a sealed container.  When you are ready to use them, blend them in a coffee grinder or food processor. I don't want to breathe in the powder, so I blend my dried hot peppers outside or in the garage.
You may have heard that green peppers are just under ripe red peppers.  While it is true that some green peppers will in time ripen to red. Some varieties of green peppers will stay green throughout their maturation process.  I love buying my peppers for salsa making at the farmers markets because I can get a half of a bushel at a time. I like to see some peppers, in a bushel of bell peppers, that have started to turn red because that means if I want to use them as a red pepper, I just have to leave the pepper at room temperature for a couple of days, and it will turn red.
Is the red pepper more nutritious than a green pepper?  I have read that a green pepper will have less vitamin C and A compared to a red or orange pepper.  However, if you prefer the bitter taste of a green pepper, eat it!  Consider it to be part of "eating your greens".
Fun fact, peppers belong to the nightshade family of plants.  Other nightshade plants include: chili pepper, cayenne pepper, eggplants, tomatoes and potatoes (but not sweet potatoes or yams).  It is rare, but some people have severe digestive problems when eating night shade plants so if you are finding that all the above fruits and vegetables give you some issues, you might want to avoid the nightshade family of plants.
Regarding planting peppers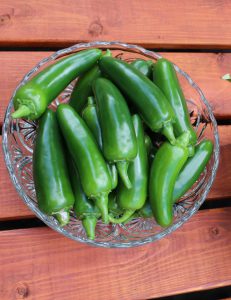 It took me several years to figure out how to achieve success in growing peppers in my home garden.  When I first started home gardening in Southern Ontario and was just starting to get into growing vegetables, I would buy a couple of greenhouse jalapeno pepper plants each year.  I would basically plant them and water when needed and I would be lucky to see a couple of peppers each year from each plant. It hardly seemed worth the effort.
But I am stubborn, and so over the years I have tried different pots and locations with a variety of sun and wind exposures and have found that this has resulted in the best success in growing peppers:
If starting from seed indoors make sure to start your plants early.  For instance, for poblanos (ancho) peppers they should be started 5-6 weeks before the last frost. So, where I am these can be seeded indoors as early as mid March.  Habaneros can be seeded indoors even earlier.

If you are going to purchase plants from a green house, choose the straightest, healthiest plants and buy your plants early.  Even if you have to baby them a bit at home before they are ready to be transplanted, by buying early you will have a good selection of healthy plants to choose from.


Choose a very sunny location, at least 8 hours of direct sunlight


The most successful vessel for growing peppers has been my cold frame.  We amend the soil with compost and manure.


My cold frame is in a nice location, no wind issues and full sun.


Seed package instructions will tell you to make sure your soil has an abundance of phosphorus and calcium. So to do this, you can add lime when applying the compost to the bed or container before transplanting.  I have found that putting both compost and manure in my cold frames has been sufficient.


And most important, prepare to fertilize your peppers.  I scratch in an organic pellet fertilizer after transplanting the plant and then scratch in additional organic fertilizer every 3 weeks.


Peppers will tolerate dry soil but you will get good plant growth if the soil is kept moist.


Be patient, peppers do take a long time to develop.  If you don't get your transplants in until the end of May or June, you might not have peppers until August or September.  But again, be patient, because some of my best pepper plants produced the most peppers ready for harvest at the beginning of September.



Poblano peppers grown in a Mayne planter with reservoir