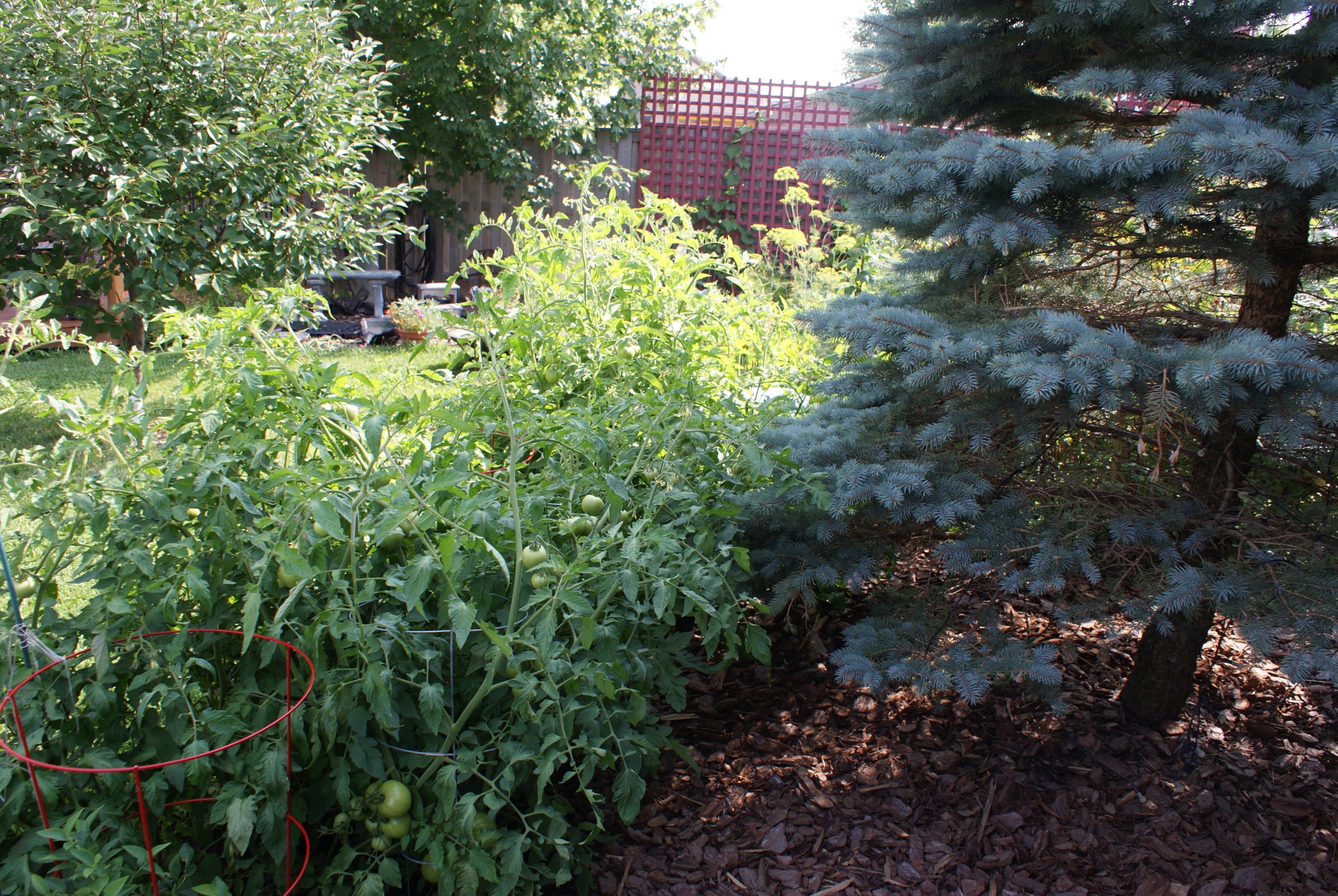 As I peer over my computer and gaze through the window that showcases my backyard, I notice the grey sky and the occasional snowflake falling to the ground.  I can't help but wonder, did I start my tomato plants too early this year?
This is the salsa dance that Mother Nature and I perform every year.  When she offers seasonal weather, I easily glide through my eight counts alongside her, relaxed, cool and centered.  Our moves flow seamlessly.  This year, I wonder just how smooth we will be.
You see, I eagerly started some of my tomato plants this year from seed in the last week of March. I kept the soil damp knowing that the germinating seed would be very intolerant of dry soil and would die if the soil became dry for even a short period of time.  I kept my trays of newly planted seed pots near my warm gas fireplace and, as expected, within seven days my seedlings appeared.  When they were up, I moved my seedlings to my daughter's bedroom (good use of a room for empty nesters like ourselves).  Even though it has a sunny south-facing window, I still placed my grow light on the plants for six hours a day, making sure that there is at least a couple of inches between the grow light and the plant.  I feel I am on track to keep to the general rule of having my tomato plants ready to be planted six weeks from the day they were seeded.  I am smug. I know that the typical last frost in my area is the third week of April and by early May I am usually golden for planting my tomatoes.  All is good, I think; I look up again and cringe at the snow.
The grow light that I have been using for the past three years on my plants ensures that I have a more compact tomato plant – this is good.  But the longer my tomato plants are in the container, the leggier they will be and this would not be good.  However, I know from past experience that if my tomato plants  become leggy, the best way to plant them is to trench plant them so that their long stems do not break in the wind.  So, I do have a plan if planting is delayed by the weather.  ( I will explain trench planting in the next tomato blog.)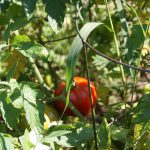 Then, I smile to myself, as I daydream about eating those summer tomatoes warmed by the sun. I am excited about the tomato plants I chose to grow this year.  One variety called "Manitoba" is an heirloom bush determinate variety which grows a nice slicing tomato.  It is a very productive plant, but I am mostly excited about this plant because it is open-pollinated, and so I can save the seeds and use them to plant in the following years.
I have seeded a nice variety of tomato plants this year.  Some are indeterminate, and so will need to be staked and pruned for better yield, a small price to pay to have the quantity.  The Manitoba being my only determinate tomato plant will need less of my time because I will not have to stake or prune it, since it will only grow to 24" tall and only take up 24" in width.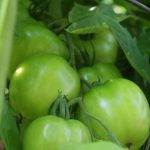 I hope that you find time to plant even one tomato plant. It could be one of the most rewarding gardening projects you do this year.  If you think you missed the boat timing-wise on seeding tomato plants or would prefer to start your tomato story with a nursery grown tomato plant then consider the following things:
There are several types of tomatoes, including cherry, paste, slicers, and huge beefsteaks. So, choose the plants that best suits your culinary needs. I like to have a variety of tomatoes in my garden; so I grow some paste, cherry, medium sliced tomatoes and some beefsteaks.  Because I make 50-60 pints of tomato-based salsa in the fall, I do buy bushels of Roma and San Marzano tomatoes from farmers markets.
Tomatoes come in a variety of sizes and colours. Pick the size and colour that suits the way you intend to use the tomatoes. That is, are they for salads or sandwiches?
Determinate tomatoes are a smaller plant and do not require staking or pruning whereas indeterminate tomatoes need to be staked and pruned.
Tomato plants have a range of age of maturity. If you want a plant that will give you tomatoes earlier rather than later in the season then choose a tomato plant that is mature in and around 60 days.
Large plants sold in a nursery store that are already in large (1-gallon) containers will give you the earliest tomatoes.
If you buy small tomato plants in the small 4-cell packs, it will take longer before you will get a harvest.
Most importantly, do not buy a plant that has broken branches, is yellowing, or is really leggy and thin.
In the following couple of weeks, I hope that I can provide steps that will help you to have a smooth and easy experience with growing your tomatoes.  I know that planning when to seed and then when to plant tomatoes is much like a salsa dance. Much like dance, if we relax and let our heads follow without thinking too much we will succeed.