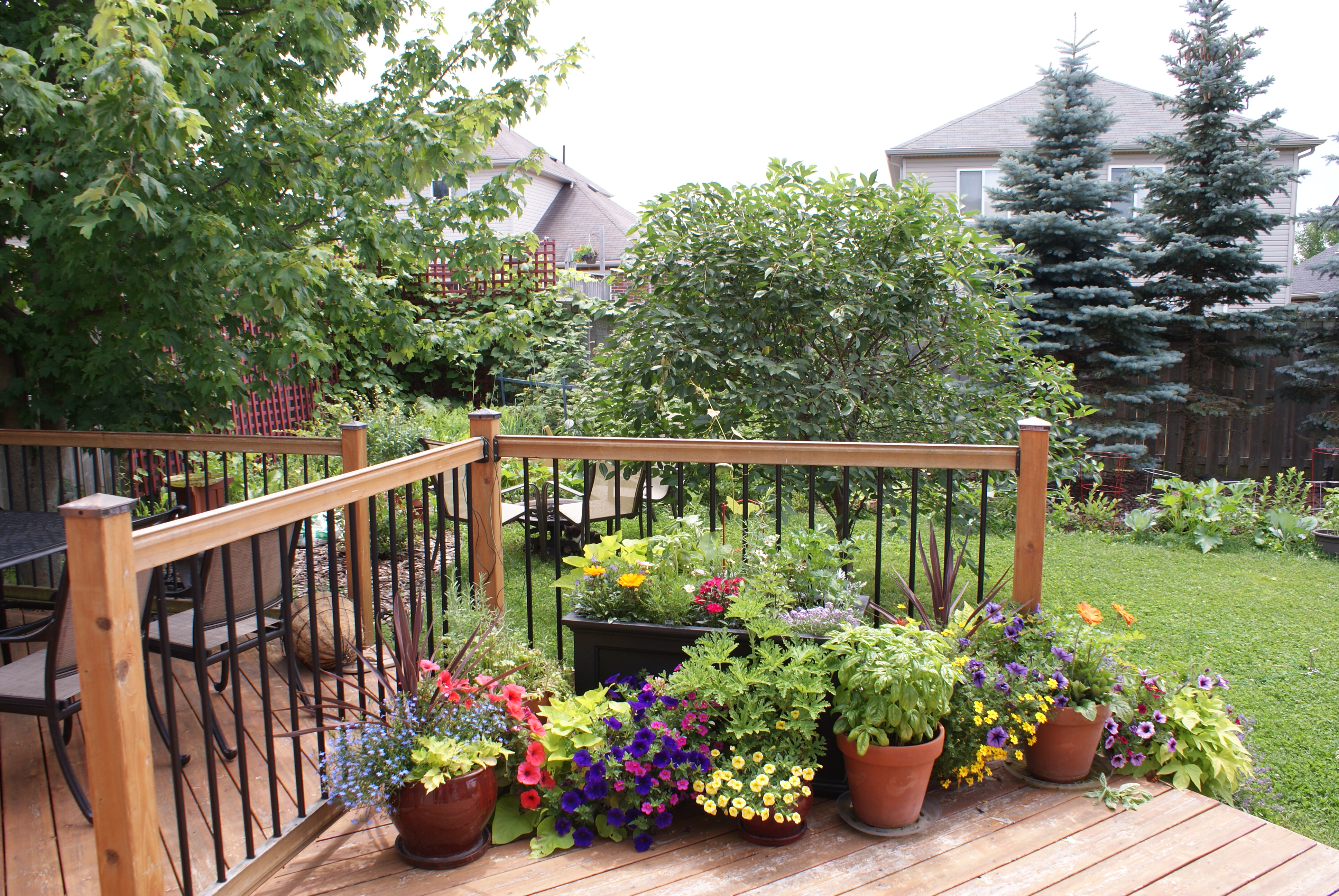 I remember the summer that sparked my interest in gardening.  We had just moved into a 27-year-old townhouse which backed onto green space.  We had a beautiful south facing, shady backyard with a deck, a large maple and the privacy of tall cedar trees lining the back of the yard.  The sides of our yard were fenced from our neighbours by chain-link and on the east side of the yard stood a beautiful lilac tree.  We decided that our best option for growing flowers or vegetables was on that east side of the yard at the farthest point of the backyard.  We built a raised garden and set out to plant.  I have to say that at this point my husband held most of the enthusiasm for planting, and so he was the catalyst in our gardening adventures.  I wasn't too optimistic that we would get very much out of our garden…. boy was I wrong.
We lived in this townhouse for five years, and every spring, after building that raised garden, we would take trips with our girls to the nursery stores in the area.  They loved the smell of the greenhouse; the first sign of colour and greenery would brighten our moods.  We would let the girls pick out the colours of the bedding plants, such as impatiens, and they even got to know the nursery garden's cat by name – Pumpkin.
When we got to planting in the garden our daughters would get elbow deep into the dirt to help.  They would enjoy helping Dad in the garden watering and be constantly on the look-out for new growth on the plants.  We discovered early on that cherry tomatoes were a fantastic plant to grow with children.  Daily, once the plant was fruiting, the girls would "snack" as they saw fit.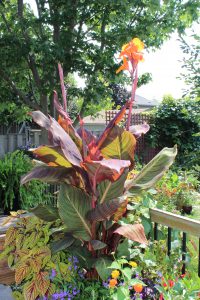 So, I began to see that growing fruit and vegetables in the garden is so much more than getting food.  It was a family experience.  Every year I would learn just a little bit more until, before I knew it, we were all planning our garden as spring approached.  We all got just a little bit excited about when we would taste the first lettuce or tomato out of the garden, and with that have come endless stories and fond memories of being in the garden together.
Getting started today with growing your own vegetables will be the beginning of your gardening story, and it will be more than just growing a couple of plants.  In this time of uncertainty about what is happening in the world you can be assured that you are also doing your part in helping not only your family but your country.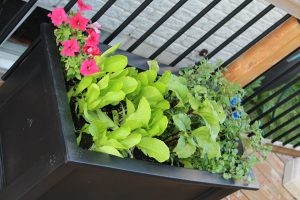 When you grow your own herbs, fruit, and vegetables, you eliminate all the fuel spent and pollution created in transporting that food to your house.  When you improve your garden soil by composting, you remove vegetable waste from the municipal landfill.  Also, you improve biodiversity by creating a habitat that is friendly to microbes, earthworms, pollinators (like bees), and birds.  And, importantly, you improve the food security of your country by removing some of the demand on the food supply – freeing those resources for people who cannot grow their own food.
Today on April 7, 2020, it may seem early to be starting to prepare your pots for transplanting vegetable or flower plants but, in fact, it is the ideal time.  To get started you need to purchase the appropriate size pot.  I have a variety of pot sizes ranging from 9" diameter to 16" diameter.  A 9" diameter pot will only support about 3-4 small plants, and I would only recommend planting small flowers such as pansies.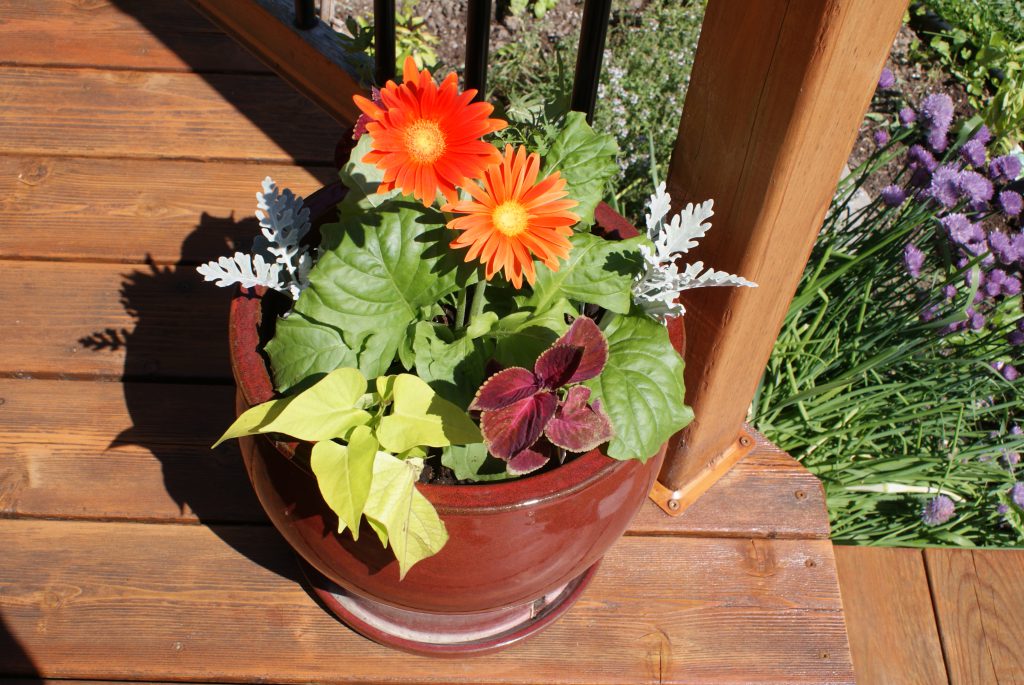 Ideally, you will purchase a 12" diameter pot, as this will allow you to plant a variety of plants over the years.  You could easily plant a pepper or tomato plant, or if you prefer to plant flowers, a pot this size will allow you to plant 6-8 small plants.  Now when I say a 12" diameter pot, I am referring to the top diameter.  You want to make sure that you have a depth of at least 8", as a small pot will really heat up in mid-summer.  If you have a shallow pot and want to plant many plants then you will need a larger top diameter 14"-16".  This will allow a good volume of soil to support the plants.
If you want a low maintenance, weather tolerant, super functional planter, I would recommend a resin (plastic) planter that has a build-in water reservoir.  I have several of these containers around my backyard in a variety of sizes.  The manufacturer, Mayne, has quality planters of this style.  In fact, that is the brand that I purchase for use in my backyard.  I have three 35.6" x 20" Mayne black containers on my deck, and I have grown, peppers, tomatoes, lettuce, tarragon, basil, lemon verbena and even strawberries in them.  The built-in water reservoir is a time saver for you.  In the heat of the summer, I would only have to water these planters at most twice a week.  In contrast, the clay pots, even at 14" in diameter, may require a daily watering.
Let's talk soil.  You want to create a soil in your container that has the nutrients that the plants need, so as to minimize the need to fertilize and, at the same time, maximize the capacity to hold water, which is especially important in the heat of the summer.  I don't think that there is necessarily only one right recipe for potting soil, but here is what works for me.  I like to include some "living" soil in the pot.  By "living" I mean soil that contains the microbes and other soil creatures that you would naturally find in a garden.  So, I fill a third to a half of the container with soil that I "borrow" from my garden (I will return it in the autumn).  I then mix compost or manure into the pot (about a quarter to a third of the container's volume).  This will be less dense than the garden soil and helps with both nutrients and water retention.  For the remainder of the container, I use a potting soil.  The potting soil will contain a fertilizer – either natural or chemical – and things like peat, perlite, and vermiculite, which help with water retention.
I hope this blog inspires you to begin your gardening story.  Even if you start this adventure with just one pot and one plant this year, you can take satisfaction in knowing that you did it!  Here's hoping your experiences bring you joy and fond memories.