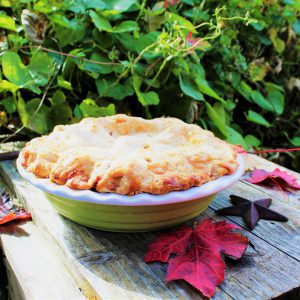 Deep Dish Apple Pie
In the fall, I get so excited when I see the local fall apples appear at the farmer's market. Even though I have been baking with apples for over 25 years, I still like to strike up a conversation with the market vendors about their produce to see what I can learn. That is how I came to know that the best local Canadian-grown apples to use for pies are Crispins (Mutsu), Cortlands, Northern Spy and Idareds. All these apples are firm and hold their shape well when baked. And, because this is a deep dish pie, when you slice into this dessert, the first wow factor is the sight of all the layers of those delicious firm apples. Enjoy this pie on its own or drizzled with caramel, topped with cheddar cheese or a scoop of French vanilla ice cream.
Ingredients
10

medium

apples, peeled and sliced

mutsu, cortland, northern spy, idared, granny smith or any firm cooking apple

⅓

cup

brown sugar

⅓

cup

sugar

3

tbsp

flour

1

tsp

cinnamon

¼

tsp

cloves

¼

tsp

allspice

2

tbsp

butter

2

pie

crusts

For an easy, convenient pie crust try the Cansanity "Busy Life Pie Crust" recipe at https://cansanity.com/?page_id=2010
Instructions
Move the rack to the bottom third of the oven and preheat your oven to 425°F.

In a large bowl, combine the sugars, flour, cinnamon, cloves and allspice.

Add the apples and stir to combine. Let the mixture sit for 5-10 minutes.

Roll out the first crust and place it in the prepared pie plate. Add the apple mixture.

Dot the pie with the butter.

Roll out the second crust and top the pie. Flute the edges and cut a couple of slits in the center.

Optional: brush the pie with cream and sprinkle a tablespoon of turbinado sugar evenly over the pie.

Place the pie on a baking sheet and top the pie with a piece of tin foil. I like to cut a hole in the center of the foil so that the pie steam can vent.

Bake in the oven for 45 minutes or until the crust is a golden brown. Remove the tin foil halfway through the baking time.

Serve warm topped with your favourite ice cream!
Nutrition
Calories:
397
kcal
Carbohydrates:
72
g
Protein:
4
g
Fat:
12
g
Saturated Fat:
4
g
Cholesterol:
1
mg
Sodium:
186
mg
Potassium:
303
mg
Fiber:
7
g
Sugar:
41
g
Vitamin A:
123
IU
Vitamin C:
10
mg
Calcium:
37
mg
Iron:
2
mg