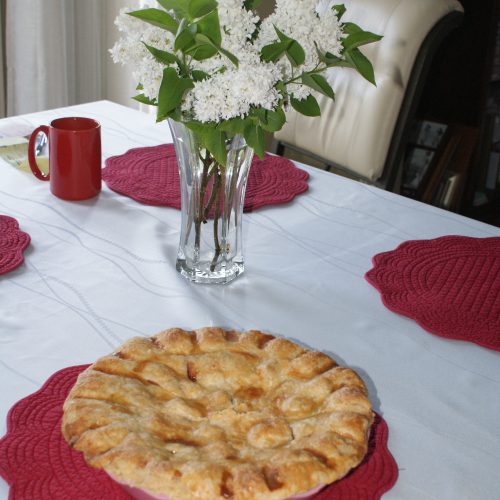 Busy Life Pie Crust
As a baker before a cook, making pie crust was one of the first recipes that I chose to master. But, as life got busier with a growing family, garden and generally just more things to do, I started to use recipes that I could make ahead and freeze, this included pie crust. I have been using this recipe to make fruit and meat pies as well as butter tarts for over 20 years. It makes great flaky pie crust, that bakes up just as tasty from frozen. The recipe makes 8 pie dough balls that can be rolled out and used as a crust the day it is made, or frozen to be used at a later date. Trust me, once you make this time-saving pie crust, you will not want to make another.
Ingredients
Dry ingredients:
5

cups

all purpose flour

2

tsp

baking powder

1

tsp

salt
Mix into a one cup measure:
2

tsp

vinegar

1

large

egg

⅔

cup

ice cold water

( might need a little more than ⅔ cup)
Instructions
Combine and mix all the dry ingredients in a large bowl.

Add the lard to the dry ingredients and use a pastry cutter or two knives to cut the lard into the dry ingredients. Cut the ingredients until the mixture has clumps in it the size of a pea.

Beat the egg in a one fluid cup measuring cup and then add the vinegar. Fill the rest of the measuring cup with ice cold water so that the total liquid amount equals one cup.

Add the wet ingredients to the dry ingredients and mix but do not overmix. Form a large rectangle and then cut the rectangle into 8 pieces.

Form each piece into a dough ball. If you are not using the dough immediately to make pies or tarts, wrap each piece in waxed paper and put into a freezer safe container. Freeze for up to 3 months.

Use in your favourite sweet or savoury pies or tarts.
Video