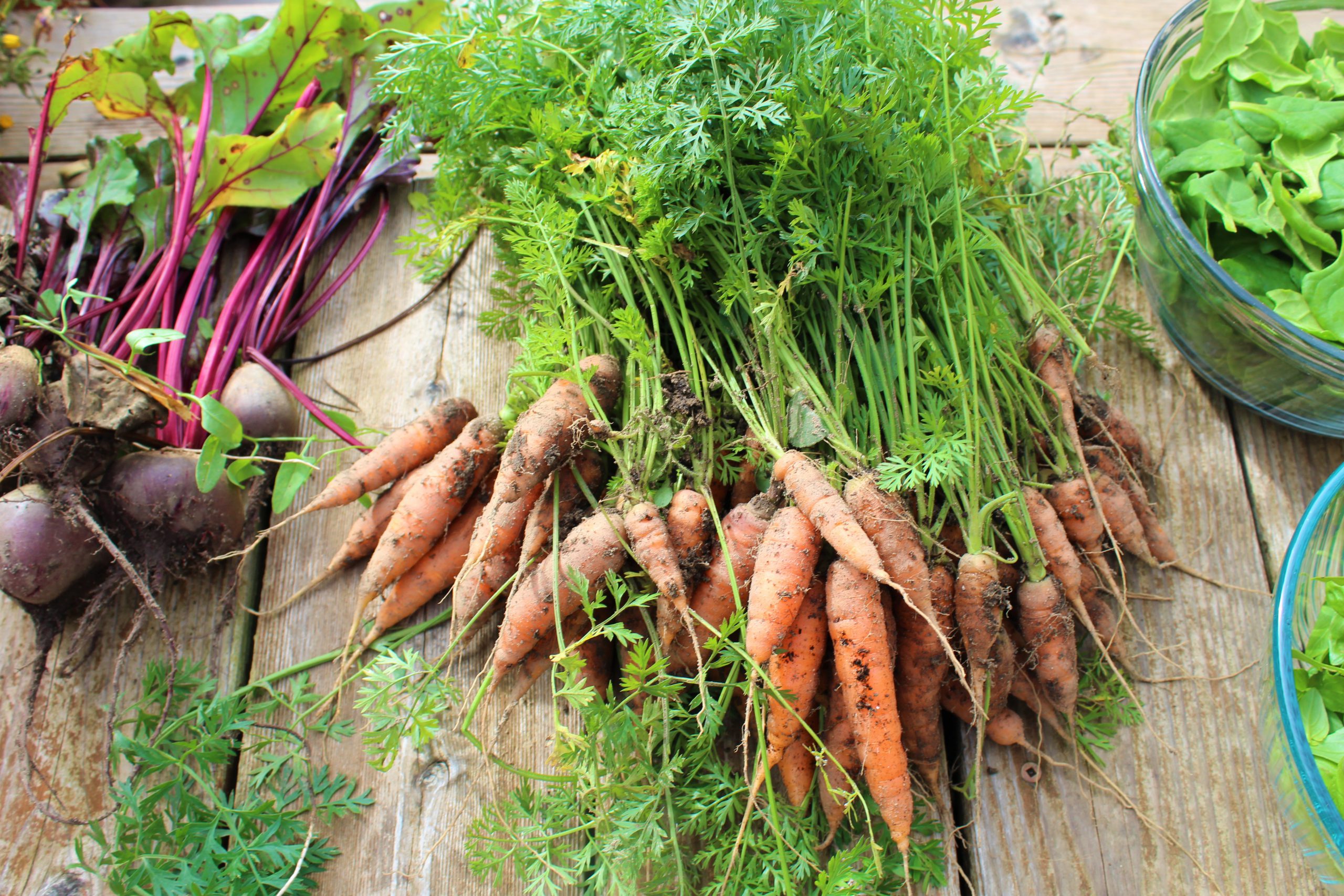 We turned over the soil in our raised vegetable garden this week, in preparation for the next stage of planting. That includes planting seeds when the last frost date is in sight.  Carrots are one of the vegetables whose seeds can be sown 2-3 weeks before the last frost date.  So, when is that?
In my area, the last frost date typically occurs sometime between the last week of April and the second week of May.  I usually plant some carrot seeds in my cold frames in the middle of April, but it has been unseasonably cool this April and so I decided to wait to plant my seeds until this week, April 27th. (To determine your area's expected frost date use Google by typing in "Expected last frost date … your city name" into the search bar.)
Eager to get growing my favourites, I chose to sow Little Fingers and two Nantes varieties this week.  Little Fingers mature in 60 days and at maturity are only three inches long. They do well in large containers and so if you are container gardening you might want to try this variety or a variety with a similar size and maturity date.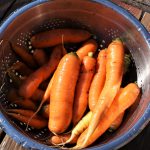 Nantes have long been my absolute favourite carrot to grow.  They are a medium sized carrot, and typically not found in the grocery stores.  They are sweet, crunchy and juicy, making them great to serve raw or to cook in your favourite recipes.  When you harvest them, be gentle though, they are susceptible to breaking.
When I prepare the area of the garden where the carrots will be sown, I like to mix in some sand.  Carrots do best in loose soil and so adding the sand to the area where I plant not only aids in seedling success but it also helps in root development.
Now, carrot seeds are very small seeds, and the general rule is that you should plant a seed only about the depth of the seed.  Carrot seeds, therefore, do best when only a  ¼ inch of soil is sprinkled on top of them.  With this in mind, sprouting carrot seeds can take a bit more work than sprouting radishes, for example.
Producers of carrot seeds, however, have provided two very easy ways to plant carrots. One is carrot seed tape and the other is pelleted carrot seeds. Both options are a bit more expensive than just carrot seeds, but in my opinion are so worth it.  I buy the carrot seed tape for planting Nantes carrots in my garden.  The tape holds the seed in place, making it very easy to put only a thin layer of soil over the seed, and it also makes wetting the surface easier.  You do not have to worry so much about your seeds washing away when you water.
The same ease of planting comes with the pelleted carrot seeds.  In fact, the pelleted carrot seeds are even better because the seed is surrounded by organic matter; you can easily see the seed and place it with a desired spacing.  But pelleted carrot seeds require even more attention to watering, meaning that the area must be damp consistently to ensure proper seedling development.
But don't be discouraged from trying to plant carrot seeds that are not in tape or pelleted.  There are some amazing tasting and colourful varieties of carrots that do not come that way and are worth trying.  I would just suggest that you expect to pay a little more attention to the planting and watering of these seeds.  Here are my general tips for successful planting:
Prepare the soil. For carrots, you never want to add fresh manure just before you plant your seedlings.  The resulting carrots will be hairy and malformed. We always add 3-year composted horse manure to our garden and cold frames in the fall to prepare for spring planting. Carrots need loose soil to grow well.  It is important therefore to loosen up the soil with a pitchfork or spade, and remove any large clumps of soil from the area. Now having said that, you do not want the soil to be so fine that it washes away easily when watered.
Use carrot seed tape or pelleted carrot seeds to improve your likelihood of success. If you are not using these products to sow your seeds, make sure to sow your seeds thickly.  Thickly sown seeds produce seedlings that sprout together which means that they will aid each other in emerging from the soil.
Keep the area damp where you have sown your seeds. Carrots seedlings are not very tough, and so you need to make it as easy as possible for the "babies" to push through the soil.
Keep the area weed free. Again, these weak seedlings need every advantage you can give them.
Don't be discouraged if you do not see seedlings in a week; carrot seeds can take up to three weeks to germinate. Also expect only 75-80% success regardless of the seed method you use.  That is typical of carrot seeds.
Make sure to keep the soil damp during the germination period and make sure to water the carrots well until you can see the root forming. You can observe the development of the carrot by brushing away the soil at the top of the root.
Don't worry too much about thinning carrots; just pick carrots and eat them to thin them.