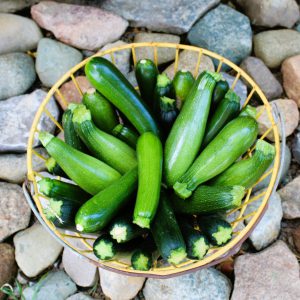 Zucchini Noodles Gnocchi and Basil Pesto
Zucchini plants never fail to impress me. They continually produce beautiful yellow flowers that turn into lovely zucchini which can be transformed into so many delicious meals and baked goods. This recipe uses spiralized zucchini noodles, potato gnocchi, red pepper and basil pesto. It comes together quickly and if you freeze spiralized zucchini noodles and basil pesto all you need to pick up in the winter is the gnocchi and red bell pepper to recreate that taste of summer.
Ingredients
3

cups

zucchini noodles

snipped in half or shorter. You can use as little as 2½ cups or as much as 4 cups

1

red bell pepper

Cored and sliced into slivers. I usually only use 3/4 of the bell pepper

700

grams

gnocchi

For convenience, I use the Olivieri Skillet Gnocchi but feel free to make some fresh gnocchi

2-3

tablespoons

basil pesto
Instructions
Heat the 12-inch skillet to medium-high. You can use a tablespoon of oil or you can use a dry skillet.

Add the potato gnocchi and fry for about 5 minutes until golden brown and slightly puffed out. Remove from the pan and reserve for adding back to the pan after the vegetables have cooked.

Add the red bell pepper and sauté until soft, about 5 minutes.

Add zucchini noodles and sauté until warmed through, about 5 minutes.

Add 2-3 fat tablespoons of basil pesto and heat until warmed through, about 2-3 minutes.

Add the gnocchi back to the pan and stir to combine. Serve warm.
Video
Nutrition
Serving:
1
serving=¼ of total amount
Calories:
350
kcal
Carbohydrates:
70
g
Protein:
10
g
Fat:
5
g
Saturated Fat:
1
g
Polyunsaturated Fat:
0.2
g
Monounsaturated Fat:
0.02
g
Cholesterol:
1
mg
Sodium:
679
mg
Potassium:
526
mg
Fiber:
7
g
Sugar:
6
g
Vitamin A:
1438
IU
Vitamin C:
70
mg
Calcium:
78
mg
Iron:
7
mg