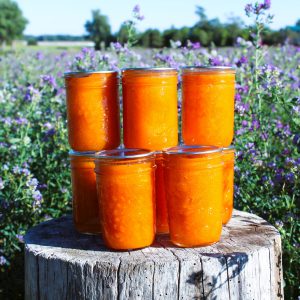 Classic Apricot Jam
Bright orange, smooth, tangy apricot jam is one of the first stone fruit jams that I make each summer. Look for this fruit at your local farmers market around the last week of July. This jam is one of the easiest jams to make because when the fruit is ripe, it can be easily halved and the stone just pops out. No peeling is required because when cooked the peel just melts into the jammy goodness. Can it in the summer and enjoy it all winter long on fresh baked biscuits or use it as part of a glaze on duck or chicken.
WATER BATH PROCESSING TIME:
10 minutes for altitudes of 1000 feet or below. Adjust processing time for higher altitudes.
Equipment
canning pot

wire basket or tray for the bottom of the canning pot

jar lift

magnetic lid lifter

6-250 ml sterilized jars with lids and rings

8-litre pot

funnel
Ingredients
3½

pounds

apricots

rinsed, pitted and then quartered

3

tablespoons

lemon juice

freshly squeezed

3

cups

sugar
Instructions
Prepare the apricots:
Rinse the apricots, halve them and remove the pits. Then cut each half again so you have quartered the apricots.

Put the fruit, sugar and lemon juice in the 8-litre pot and stir. Let sit for 30 minutes or up to overnight in the refrigerator. (This will draw the liquid out of the fruit.)
Make the jam:
Bring the fruit mixture to a boil on medium-high. Keep the temperature on medium-high and cook for 12 minutes. Stir constantly to prevent scorching on the bottom. (Besides burning, this is to ensure that you keep the bright orange colour.)

Note: this jam will give you a nice silky consistency but will not achieve a firm set.

Skim off foam if desired.

Ladle the apricot jam into hot sterilized jars, leaving ¼" of headspace. Top each jar with a washed and briefly warmed snap lid. (I put the snap lid in boiling hot water for 30 seconds, this softens the seal.) Add the sterilized ring and tighten to finger tip tightness. Process using the boiling water method in a canning pot for 10 minutes.

Remove the jars using a jar lift and place on a cutting board. Do not disturb for 24 hours.

Remove the rings and inspect the jars. Wipe the jars clean with a soapy cloth. Store the jam without the rings on in a dark cool place for up to a year. If any jars have failed to seal, store in the fridge and use immediately.
Nutrition
Serving:
1
tbsp
Calories:
32
kcal
Carbohydrates:
8
g
Protein:
0.2
g
Fat:
0.1
g
Saturated Fat:
0.005
g
Polyunsaturated Fat:
0.01
g
Monounsaturated Fat:
0.03
g
Sodium:
0.2
mg
Potassium:
43
mg
Fiber:
0.3
g
Sugar:
8
g
Vitamin A:
319
IU
Vitamin C:
2
mg
Calcium:
2
mg
Iron:
0.1
mg