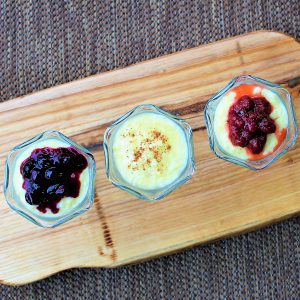 Rice Pudding (Riisipuuro)
Creamy, lightly sweetened riisipuuro (rice pudding) topped with warmed prune compote, blueberry or raisin sauce brings back memories of my youth and also visits from my parents when I was away at University. My father, being Finnish, was raised with riisipuuro as a common dessert, and so my mother continued the tradition of making it frequently for us. So when she visited me, a couple times a year, she would always take the time to make a batch or two. It always brought me comfort and made me feel like a kid again. I have carried on this tradition with my family, and so now whenever my daughters are home, riisipuuro (rice pudding) is prepared, and we all feel the comfort of being home.
Equipment
8-litre stainless steel pot
Ingredients
3

cups

cooked white rice

4-4½

cups

milk- divided

whole milk is the best for the creamiest flavour

¼

cup

granulated sugar

2

large

eggs

whisked

¼

teaspoon

salt

¼

teaspoon

cinnamon

½

teaspoon

vanilla extract

optional: ½ cup raisins

optional: 2 tablespoons of butter
Per serving optional toppings:
⅛

teaspoon

ground nutmeg

sprinkled on top just before serving

1

tablespoon

blueberry sauce

1

tablespoon

strawberry sauce

or strawberry preserve

1

tablespoon

prune compote

1

tablespoon

raisin sauce

1

tablespoon

maple syrup

1

tablespoon

cherry preserves

or substitute your favourite preserve
Instructions
Combine the cooked rice and 3 cups of the milk and the cinnamon. Bring to a boil and then reduce to medium-low and cook for 10-15 minutes or until creamy and thick. Make sure to stir often or the milk will form a crust on the bottom of the pot and burn.

To the whisked eggs add 4 heaping tablespoons of the hot rice pudding to temper the eggs.

Add one cup of the remaining milk, whisked eggs, sugar, salt, and vanilla. Cook on low for 5 minutes or until thickened, stirring constantly. Do not bring to a boil or the egg will curdle. If the rice pudding is too thick for your liking add additional milk to reach the desired consistency. Note: The rice pudding will continue to thicken as it cools.

Remove the pot from the heat and stir in the vanilla. If using, add the butter.

Serve warm or cold topped with your favourite topping.

The rice pudding will be very thick after refrigeration. Warm in the microwave for 10 seconds before serving and add a tablespoon of milk if desired.
Notes
Recipe for a  blueberry or strawberry sauce:
4 cups of wild blueberries or quartered strawberries (fresh or frozen)
1/2 cup of granulated sugar
11/2 cups of water (I like my sauce a little bit runny but if you want it to be thicker you can use 1 or 1 1/4 cup of water instead)
1/2 teaspoon of cinnamon
1 tablespoon of lemon juice (bottled or fresh squeezed)
2 tbsp of cornstarch (plus a couple of tablespoons of water)
In a 4-litre pot, on medium-high bring the blueberries, sugar, water, cinnamon and lemon juice to a boil. Reduce to medium and cook for 5-8 minutes. Mix the cornstarch with some water and then pour into the pot. Boil for 2 minutes until thickened. Cool until warm and serve over riisipuuro!
Nutrition
Calories:
156
kcal
Carbohydrates:
23
g
Protein:
7
g
Fat:
4
g
Saturated Fat:
2
g
Cholesterol:
56
mg
Sodium:
147
mg
Potassium:
203
mg
Fiber:
1
g
Sugar:
6
g
Vitamin A:
188
IU
Vitamin C:
1
mg
Calcium:
155
mg
Iron:
1
mg