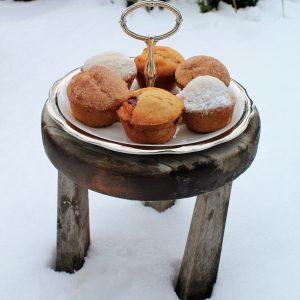 Donut Muffins
Want a way to use those fantastic jams you made over the summer? Here is a super easy but tasty and fancy-looking muffin that is sure to please everyone! My kids fondly refer to these muffins as "donut muffins" because they taste very similar to a cake donut. My favourite way to make a batch is to make some with filling and some without and to vary the topping, so that I have a nice assortment of muffins. Try them this year with your favourite preserve or enjoy them plain on the inside but sweet on the outside.
Equipment
Muffin tin that holds 12 muffins

Muffin tin that holds 6 muffins
Ingredients
For the muffins:
3½

cups

all-purpose flour

3

teaspoons

baking powder

1

teaspoon

salt

1

teaspoon

nutmeg

½

teaspoon

cinnamon

⅔

cup

canola oil

or substitute any mild tasting oil

2

large

eggs

1½

cups

granulated sugar

1½

cups

milk
Optional topping:
½

cup

butter

½

cup

granulated sugar

you won't use all the cinnamon sugar

½

teaspoon

cinnamon

or

use 1 cup of confectioners' sugar instead of the cinnamon sugar
Optional filling:
18

teaspoons

strawberry, blueberry, raspberry or peach jam

If the jam is thick you can use up to 1 tablespoon.
Instructions
To make the muffins:
Preheat the oven to 350°F.

Lightly grease the muffin tins with shortening or use a cooking oil spray.

In a large bowl combine the flour, baking powder, salt, nutmeg and cinnamon.

In a medium bowl whisk the oil, sugar, eggs and milk.

Add the wet ingredients to the dry ingredients and stir just to combine. Do not overmix. You may see some lumps, that is okay.

If adding jam, fill the tins halfway with the batter and add a teaspoon of jam, then finish filling the tins with batter.

If you are not using a jam filling , evenly distribute the batter between all 18 muffin cups.

Bake in a 350°F oven for 20-25 minutes.

Combine the sugar and cinnamon in a small bowl. Melt the butter in another separate small bowl.

Shake the muffins out of the tin and immediately while the muffins are hot, one at a time dip the tops in the melted butter. Then roll the tops in the cinnamon-sugar or the confectioners' sugar. I like to leave some muffin tops plain, some with the cinnamon-sugar topping and some with the confectioners' sugar.

Cool on a wire rack until cooled completely. Serve warm or cool.
Nutrition
Serving:
1
-cinnamon sugar topped muffin
Calories:
312
kcal
Carbohydrates:
42
g
Protein:
4
g
Fat:
15
g
Saturated Fat:
4
g
Cholesterol:
36
mg
Sodium:
263
mg
Potassium:
61
mg
Fiber:
1
g
Sugar:
23
g
Vitamin A:
208
IU
Calcium:
71
mg
Iron:
1
mg