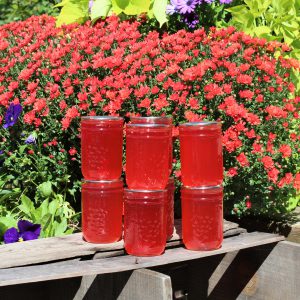 Mama's Hot Pepper Jelly
If you are looking for a fantastic hot pepper jelly, look no further. I have been making this version of hot pepper jelly for over 10 years and it is always a super hit when served. The flavour is complex with hints of apple, lemon, cranberry and peppers and a beautiful red colour is naturally produced when using only red peppers, whether hot or sweet, and the addition of cranberries. Think Christmas in September when making this jelly; it makes an excellent gift!
WATER BATH PROCESSING TIME:
5 minutes for altitudes of 1000 feet or below. Adjust processing time for other altitudes.
Equipment
12-litre stainless steel heavy bottomed pot

8-litre stainless steel or larger heavy bottomed pot

rimmed baking sheet

large fine mesh strainer

cheesecloth

canning pot

wire basket or tray for the bottom of the canning pot

jar lift

magnetic wand for lid placement

funnel

5-250 ml sterilized jars and metal rings

5 snap lids

disposable gloves
Ingredients
12

Granny Smith apples

(about 4 lbs) cored, and cut into large wedges

10

red serrano peppers or 7-8 orange or red habaneros

(about 4 ounces) wearing disposable gloves cored, seeded and chopped (substitute- 8 red jalapenos for milder heat)

2

cups

red bell pepper

cored and roughly chopped

1

lemon

sliced leaving the peel on (I like to use organic lemons if I can find them)

1

cup

frozen cranberries

you can use 1½ cups of cranberries for more cranberry colour and flavour

3

cups

white vinegar

5% acidity

3

cups

water

3

cups

sugar or more

the exact amount of sugar will be determined once you create the juice
Instructions
To make the juice:
Add the chopped and sliced fruit, peppers, water and vinegar to a 12-litre pot. Bring to a boil and cook for 20-30 minutes or until the apple pulp has separated from the peels. Note: If you leave the lid on while the mixture is simmering you will get more juice. If you simmer with the lid off or slightly ajar you will get less juice but the flavour and colour of the jelly juice will be more concentrated.

Line a large fine mesh strainer with cheesecloth dampened with water. Pour the mixture into the strainer. Let drain for at least 30 minutes. Do not press on the mixture or your jelly will be cloudy.

This can be refrigerated for up to 2 days.
To make the jelly:
Preheat your oven to 225°F.

Measure the juice and for every cup of juice, you will need ¾ cup of sugar. Process your jelly in batches if you have more than 5 cups of juice. (It will come to a gel point quicker in small batches.)

Note: If you process more than 5 cups of juice,in an 8-litre pot, it will boil over. In fact, to ensure that the jelly does not boil over wash out your 12-litre pot and use that to process the jelly.

Add the juice to the 8-litre stainless steel pot or to the cleaned 12-litre pot and bring it up to a boil.

While you are waiting for your juice to come up to a boil, pour the sugar on a rimmed baking sheet and warm in the oven for 10 minutes. (Usually once the sugar is warm, the jelly juice on the stove has started to boil.)

Once the juice is boiling, add the warmed sugar. Boil until the gel point is reached, about 15 minutes. To determine gel point, you can use a candy thermometer. When the thermometer reaches 220°F, your jelly should be ready to can. I like to just use a stainless steel spoon to determine if my jelly is ready. I run the spoon through the hot liquid and then turn the stainless steel spoon on its side. When the jelly forms droplets on the spoon edge, the jelly is done.

Fill each sterilized jar with the hot pepper jelly, leaving ¼" headspace.

Wipe each jar rim with a paper towel or cloth dampened with hot water.

Top each jar with a washed and briefly warmed snap lid. (I put the snap lid in boiling hot water for 30 seconds; this softens the seal.) Add the sterilized ring and tighten to finger tip tightness.

Process using the boiling water method in a canning pot for 5 minutes. (Make sure to start timing when the water returns to a full boil after adding the jars.)

Remove the jars using a jar lift and place on a cutting board. Do not disturb for 24 hours.

Remove the rings and inspect the jars. Wipe the jars clean with a soapy cloth. Store the hot pepper jelly without the rings in a dark cool place for up to a year. If any jars have failed to seal, store in the fridge and use immediately.
Video
Nutrition
Serving:
1
-tbsp
Calories:
53
kcal
Carbohydrates:
13
g
Protein:
1
g
Fat:
1
g
Saturated Fat:
1
g
Sodium:
1
mg
Potassium:
43
mg
Fiber:
1
g
Sugar:
12
g
Vitamin A:
139
IU
Vitamin C:
8
mg
Calcium:
3
mg
Iron:
1
mg