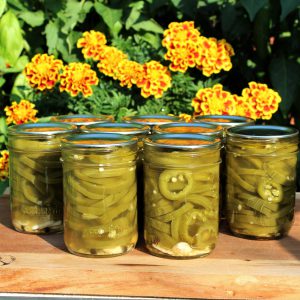 Pickled Jalapeno Rings
I remember the first time I tried jalapenos. I was 21, at a bar, and one my of best friends, Janis, dared me to eat a whole jalapeno ring. Well, I never could resist a dare, and so I ate one ring. Well, with my tongue on fire, I guzzled water, tried ice and then ran to the bathroom and remember grabbing handfuls of wet paper towel to try and wipe the heat off. It is funny how palates change, because now I grow peppers that are a lot hotter than jalapenos, and I consider this pepper to be mild in heat. I absolutely love these pickled jalapenos on tacos, quesadillas and burgers and it would be a sad year if I didn't get some of these awesome pickled jalapenos canned.
WATER BATH PROCESSING TIME:
10 minutes for altitudes of 1000 feet or below. Adjust processing time for other altitudes.
Equipment
canning pot

wire basket or tray for the bottom of the canning pot

jar lift

magnetic wand for lid placement

funnel

8-250 ml sterilized jars with lids and rings

8-litre pot

disposable nitrile gloves (You will need these to cut the jalapenos)
Ingredients
2½

pounds

jalapeno peppers

cored, seeded and cut into rings just shy of ¼"

8

cloves

garlic

peeled and sliced

1

tsp

black peppercorns

you will use ⅛ teaspoon in each jar (about 5 peppercorns)
The brine:
2

tbsp

mixed pickling spices

these will be put into a cheesecloth spice bag

2

tsp

pickling salt

2

tbsp

honey

4

cups

cider vinegar
To add to each jar after filling to within ¾" of the top:
12

tsp

olive oil

divided-1½ tsp to each jar
Instructions
Put the pickling spices into a cheesecloth that has 4 layers and tie with string.

While wearing disposable nitrile gloves, core, seed and slice your jalapenos. The thickness should be between ⅛" and ¼". (Just shy of ¼" is a nice thickness.)

Add the pickling spice bag, cider vinegar, pickling spice and honey to the 8-litre pot and bring to a boil, reduce to simmer. (It will take about 5 minutes to bring to a boil.)

Add the sliced jalapenos and bring the mixture back up to a boil, about 3 minutes. Turn off the stove.

Divide the sliced garlic among the sterilized jars and add ⅛ teaspoon of black peppercorns.

Using a slotted spoon, divide the hot jalapeno rings into each jar. Pack them in tight and then add brine to within ¾" of the top of the jar.

Run a sterilized thin utensil or a spoon through the jar to remove the air bubbles.

Add 1½ teaspoons of olive oil to each jar. Then top with more brine to within ½" headspace.

Wipe each jar rim with a paper towel or cloth dampened with hot water.

Top each jar with a washed and briefly warmed snap lid. (I put the snap lid in boiling hot water for 30 seconds, this softens the seal.) Add the sterilized ring and tighten to finger tip tightness.

Process using the boiling water method in a canning pot for 10 minutes. Shut off the pot and leave it covered for 5 minutes.

Remove the jars using a jar lift and place on a cutting board. Do not disturb for 24 hours.

Remove the rings and inspect the jars. Wipe the jars clean with a soapy cloth. Store the jalapeno pickles without the rings on in a dark cool place for up to a year. If any jars have failed to seal, store in the fridge and use immediately.

The flavour is best if you leave the pickles for 3 weeks before eating.