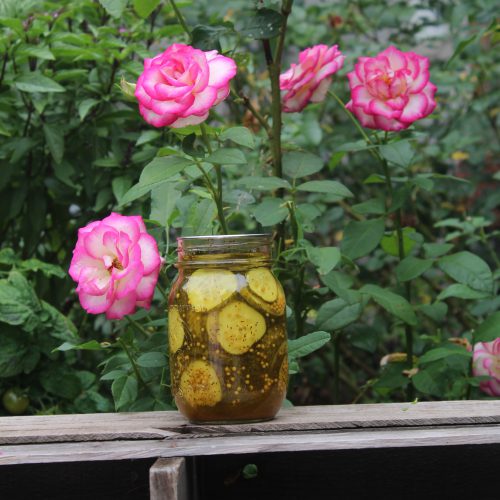 Slivers
I had been searching for the best bread and butter pickle recipe for years and then, one year when I was up visiting family in my home town, my mother-in-law Sylvia served these pickles. My search was over. These bread and butter pickles have the perfect balance of sweet and sour, can be made quickly and easily and can be made as a fresh pickle or canned. Try these pickles in a grilled cheese sandwich, chopped in tuna salad, or enjoy them on your favourite burger.
WATER BATH PROCESSING TIME:
10 minutes for altitudes of 1000 feet or below. Adjust processing time for other altitudes.
Equipment
canning pot

4-litre pot

wire basket or tray for the bottom of the canning pot

jar lift

magnetic wand for lid placement

funnel

6-500 ml sterilized jars with lids and rings
Ingredients
4

lbs

cucumbers

scrubbed and both ends removed

5

cups

vinegar

5

cups

sugar

1

cup

water

½

cup

pickling salt

1

tbsp

turmeric

6

tsp

mustard seeds

6

tsp

celery seeds
Instructions
Place scrubbed cucumbers, ends removed, in a large bowl with cold water. Put a plate on top of the cucumbers to make sure they are covered completely. Place in the fridge overnight or cover with ice and leave on the counter top. 

Wipe the cucumbers dry in the morning, and slice.

Combine all the brine ingredients except the turmeric. Bring the brine ingredients to a boil. (This should take 5 minutes.) Add the turmeric, remove the pot from the stove and shut off the heat.

To each sterilized jar, add 1 teaspoon of mustard seeds and 1 teaspoon of celery seeds and then add sliced cucumbers but only fill halfway to start. Add some hot brine, then fill with the remaining cucumbers. Pack the cucumbers tightly to within ¾" of the top. Fill with brine leaving ½" headspace. Run a thin plastic utensil or a chop stick along the inside of the jar to remove air bubbles. If after doing this there is room to add more cucumbers, go ahead and add some but make sure that you still maintain ½" headspace.

Wipe each jar rim with a paper towel or cloth dampened with hot water.

Top each jar with a washed and briefly warmed snap lid. (I put the snap lid in boiling hot water for 30 seconds, this softens the seal.) Add the sterilized ring and tighten to finger tip tightness.

Process using the boiling water method in a canning pot for 10 minutes. After the 10 minutes, shut off the stove top and let the pot rest for 5 minutes with the lid on. (This will help prevent a lot of liquid from leaving the jar when you remove it from the canner.)

Remove the jars using a jar lift and place on a cutting board. Do not disturb for 24 hours.

Remove the rings and inspect the jars. Wipe the jars clean with a soapy cloth. Store the pickles without the rings on in a dark cool place for up to a year. If any jars have failed to seal, store in the fridge and use immediately.

The flavour of these pickles will be best if you let them sit for three weeks or more before opening.
Notes
To make just one jar of these pickles to put in your fridge, use the slide bar under the "serving" heading and modify to 1- 500 ml jar. The ingredient amounts will change in the recipe to allow a yield of one jar.