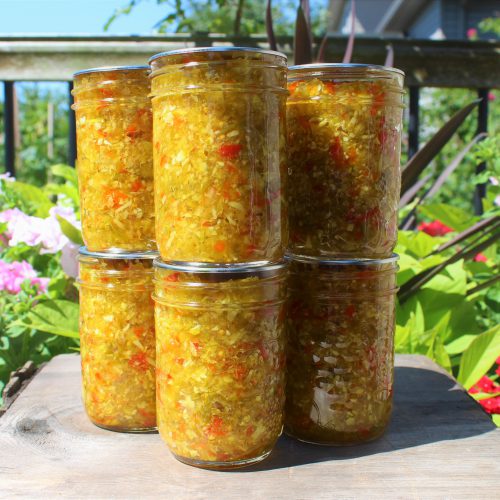 Chow Chow Relish
A good chow chow recipe to me is one that uses up vegetables growing in my garden at the end of the season. I like this particular version of a chow chow because it requires green tomatoes, cabbage and peppers, vegetables that I can easily find in my garden or at the market. This is a two-day recipe in that you chop the vegetables one day and let them sit overnight mixed with 2 tablespoons of salt. The next day, drain off the liquid and then the relish comes together quickly and easily.
WATER BATH PROCESSING TIME:
5 minutes for altitudes of 1000 feet or below. Adjust processing time for other altitudes.
Equipment
canning pot

wire basket or tray for the bottom of the canning pot

jar lift

magnetic lid lifter

funnel

8-250 ml sterilized jars with lids and rings

large fine mesh strainer

8-litre pot with a lid

optional: food processor
Ingredients
The first day chop and salt:
4

cups

green tomatoes

about 2 lbs

3

cups

cabbage

about 8 ounces

2¼

cup

green pepper

about 3 medium

1½

cup

red pepper

about 2 medium

1

cup

onion

2

tbsp

pickling salt
The brine for the second day:
1¼

cups

sugar

1¼

cups

cider vinegar

½

cup

water

2

tsp

mustard seeds

1

tsp

celery seeds

½

tsp

ground turmeric
Instructions
The first day finely chop using a food processor or by hand the tomatoes, cabbage, green and red peppers and onion. If you are using a food processor, pulse the vegetables a portion at a time until all the vegetables are chopped. Place the vegetables in a large bowl or the stainless steel pot and mix in the 2 tablespoons of pickling salt. Cover and refrigerate overnight.

Drain the vegetables and rinse with cool water. Drain a second time.

To make the brine, combine the sugar, cider vinegar, water, mustard seeds, celery seeds and ground turmeric in an 8-litre pot. Heat to boiling. Add all the drained vegetables and return to boiling, stirring frequently. Once heated through (about 5 minutes), remove from the heat.

Fill each jar and give ½" headspace. Run a thin plastic utensil or a chop stick along the inside of the jar to remove air bubbles.

Wipe each jar rim with a paper towel or cloth dampened with hot water.

Top each jar with a washed and briefly warmed snap lid. (I put the snap lid in boiling hot water for 30 seconds, this softens the seal.) Add the sterilized ring and tighten to finger tip tightness.

Process using the boiling water method in a canning pot for 5 minutes.

Remove the jars using a jar lift and place on a cutting board. Do not disturb for 24 hours.

Remove the rings and inspect the jars. Wipe the jars clean with a soapy cloth. Store the relish without the rings on in a dark cool place for up to a year. If any jars have failed to seal, store in the fridge and use immediately.
Notes
If you decide to use 500 ml jars, then process the relish in the water bath for 15 minutes.
Nutrition
Calories:
13
kcal
Carbohydrates:
3
g
Protein:
1
g
Fat:
1
g
Saturated Fat:
1
g
Sodium:
126
mg
Potassium:
30
mg
Fiber:
1
g
Sugar:
3
g
Vitamin A:
120
IU
Vitamin C:
6
mg
Calcium:
3
mg
Iron:
1
mg