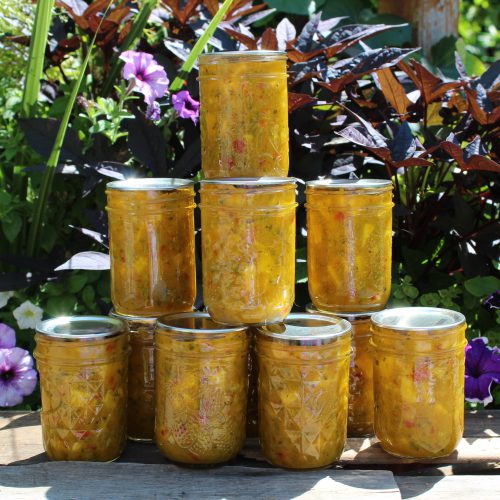 Lady Ross Relish
One year, a good friend of mine, Kerry, asked me if I could make a batch of her mom Nancy's relish for her. This was Nancy's signature preserve, and the first time I tasted it I could see why! It is a versatile relish that is ridiculously fantastic on everything! The sweet and sour are in perfect balance because of the addition of apples with the cucumbers, red pepper, onions, and vinegar. Besides adding flavour, the apples also act as part of the thickening agent in the preserve, giving it just the right spreading consistency. Even though this recipe yields 22-250 ml jars, I always run out of it every year because it is one of my favourite preserves to give as a gift.
WATER BATH PROCESSING TIME:
10 minutes for altitudes of 1000 feet or below. Adjust processing time for other altitudes.
Equipment
canning pot

wire basket or tray for the bottom of the canning pot

jar lift

magnetic wand for lid placement

funnel

whisk

22-250 ml sterilized jars with lids and rings

fine mesh strainer

20-litre pot (if you decide to make only half this recipe you could use a 12-litre pot)

12-litre pot with lid or bowl with lid (to store the chopped ingredients in the fridge overnight)
Ingredients
To chop using a food processor (These can also be chopped by hand if you do not have a food processor)
4

lbs

cucumbers

approximately 2 quarts

1

bunch

celery

3

whole

red peppers
To chop by hand and the salt
4

cups

(1½-2 large) Spanish onions

chopped medium dice

3

pounds

Granny Smith apples

2¼ pounds or 8 cups after peeled, cored and chopped medium dice

½

cup

pickling salt
The sauce:
16

tbsp

mustard powder

this is one full 113g Coleman's brand container

2

tbsp

tumeric

¾

cup

flour

6

cups

vinegar

8

cups

brown sugar
Instructions
In a 12-litre bowl, or pot, add all the chopped vegetables and the ½ cup of pickling salt. Stir to combine and then let stand overnight in the fridge.

The next morning, pour the vegetable mixture into a large fine mesh colander and drain well.

In the large 16-20 litre pot, add the dry mustard, turmeric and flour. Add ½ cup of the vinegar and whisk and then add another ½ cup of the vinegar and whisk well to form a paste. (It is important not to add all the vinegar at one time because if you do you will have a lumpy sauce.) Add a second cup of the vinegar and whisk again. 

Add the remaining 4 cups of vinegar and 8 cups of brown sugar and whisk well. Heat the sauce on medium-high to boiling (this will take about 8 minutes to reach the boiling point), and continue to cook until thickened, about 4 minutes.

Once the sauce is thickened add the chopped vegetables.  Bring the mixture to a boil (this should take about 10 minutes to bring to a boil) and cook for 4 minutes.

Fill each jar and give ½" headspace. Run a thin plastic utensil or a chop stick along the inside of the jar to remove air bubbles.

Wipe each jar rim with a paper towel or cloth dampened with hot water.

Top each jar with a washed and briefly warmed snap lid. (I put the snap lid in boiling hot water for 30 seconds, this softens the seal.) Add the sterilized ring and tighten to finger tip tightness.

Process using the boiling water method in a canning pot for 10 minutes. (If you have decided to can your relish in 500 ml jars, you will need to process them for 15 minutes.) Note: This is a large batch of relish and your filling will cool down by the third time you are filling the jars. Make sure to heat the filling if it has cooled down, before filling the rest of your jars.

Remove the jars using a jar lift and place on a cutting board. Do not disturb for 24 hours.

Remove the rings and inspect the jars. Wipe the jars clean with a soapy cloth. Store the relish without the rings on in a dark cool place for up to a year. If any jars have failed to seal, store in the fridge and use immediately.
Video
Notes
I like to make this recipe using 250 ml jars because that is a nice size to give as a gift. Because the yield is 22 jars, it will take 2 hours to process all the jars. You can make this recipe using 500 ml jars. If you use 500 ml jars then process the relish in the water bath for 15 minutes.
Nutrition
Serving:
1
-tbsp
Calories:
26
kcal
Carbohydrates:
6
g
Protein:
1
g
Fat:
1
g
Saturated Fat:
1
g
Sodium:
163
mg
Potassium:
24
mg
Fiber:
1
g
Sugar:
5
g
Vitamin A:
7
IU
Vitamin C:
1
mg
Calcium:
7
mg
Iron:
1
mg