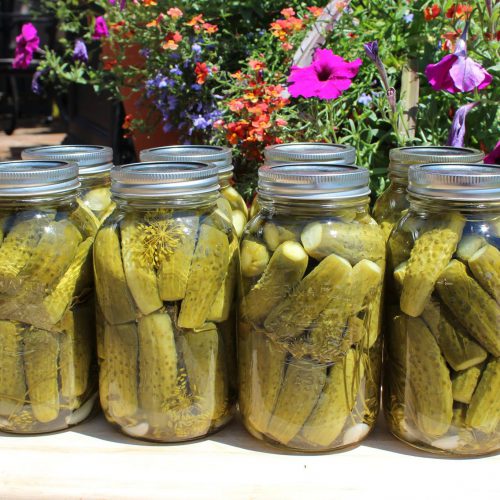 Mama's Dill Pickles
One of the reasons I grow garlic and dill in my garden is so that I can easily make these dill pickles. I also grow pickling cucumbers, but because we are pickle fanatics, I never can grow enough. So, I usually pick up a half bushel of cucumbers from a farmers market to make up the difference. This is always the first dill pickle made each season, and it is a family favourite because it is not overly salty or briny. Instead, you taste the true flavours of the cucumbers, garlic and dill.
WATER BATH PROCESSING TIME:
15 minutes for altitudes of 1000 feet or below. Adjust processing time for other altitudes.
Equipment
large canning pot

wire basket or tray for the bottom of the canning pot

jar lift

magnetic wand for lid placement

funnel

6-1 litre sterilized jars with lids and rings
Ingredients
6

lbs

cucumbers

I like to pickle cucumbers that are 3-4" in length. You can pickle larger cucumbers using this recipe but you might only get 4 or 5 quarts.

12

dill heads

I prefer to use dill heads that have started to form seeds.

12

large

garlic cloves

optional: 12 organic grape leaves

or you can use oak leaves
The brine:
10

cups

water

3

cups

5% white vinegar

½

cup

kosher or pickling salt
Instructions
Wash the cucumbers and scrub with a brush to remove the dirt and spines.

Take a small slice off both ends of the cucumber. (There are enzymes in the ends of the cucumber that will result in a mushier cucumber if left on.)

To each sterilized jar, add two garlic cloves, two grape leaves and two dill heads. Pack each jar tightly with cucumbers leaving ¾" at the top.

Bring the brine ingredients to a boil. Fill each jar with the brine giving ½" headspace. Run a thin plastic utensil or a chop stick along the inside of the jar to remove air bubbles. If after doing this there is room to add another cucumber, go ahead and add it but make sure that you still maintain ½" headspace.

Wipe each jar rim with a paper towel or cloth dampened with hot water.

Top each jar with a washed and briefly warmed snap lid. (I put the snap lid in boiling hot water for 30 seconds, this softens the seal.) Add the sterilized ring and tighten to finger tip tightness.

Process using the boiling water method in a canning pot for 15 minutes. (If you have decided to can your cucumbers in 500 ml jars, you only need to process them for 10 minutes.) After the 15 minutes, shut off the stove top and let the pot rest for 5 minutes with the lid on.

Remove the jars using a jar lift and place on a cutting board. Do not disturb for 24 hours.

Remove the rings and inspect the jars. Wipe the jars clean with a soapy cloth. Store the pickles without the rings on in a dark cool place for up to a year. If any jars have failed to seal, store in the fridge and use immediately.

The flavour of these pickles will be best if you let them sit for three weeks or more before opening.
Video
Notes
I don't always grow my own pickling cucumbers, instead I pick up a half bushel at a time at the farmers market. One half a bushel of cucumbers that are 3-4" in length will yield 15 quarts of pickles.