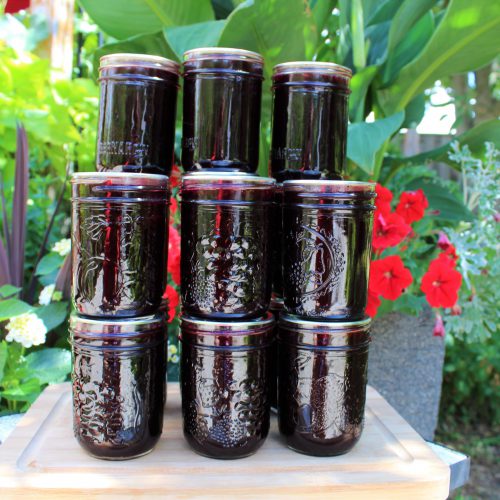 Blueberry Jam Gone Wild
Local blueberries are always such a great summer time treat, especially when you get a chance to pick some fresh. Having grown up in northern Ontario, wild blueberry jam was always a preserve that my mom made every summer. In southern Ontario, wild blueberries are a little harder to come by. However, with this recipe, you can use any variety of blueberries and still get that wild blueberry flavour.
WATER BATH PROCESSING TIME:
10 minutes for altitudes of 1000 feet or below. Adjust processing time for other altitudes.
Equipment
canning pot

wire basket or tray for the bottom of the canning pot

jar lift

magnetic lid lifter

5-250 ml sterilized jars with lids and rings

8-litre pot

funnel

optional: food mill
Ingredients
2½

pounds

(about 8 cups) highbush domestic blueberries, rinsed

or substitute wild blueberries but then only use 1 tablespoon of gin

½

cup

water

or substitute: ½ cup gooseberry pectin stock

3

cups

sugar

1

tbsp

freshly squeezed and strained lemon juice

1

cinnamon stick

3 inches long

1½

tbsp

gin

or substitute: 1 tablespoon of lime juice
Instructions
Add the blueberries to a 8-litre pot and add the water or pectin stock. Mash the berries slightly with a potato masher and cook on medium-high for 3 minutes or until the berries start to burst open.

Optional: If you want a smoother jam, you can remove the blueberry skins by processing your cooked berries and juices through a food mill fitted with a coarse blade. This will only take 2-4 minutes to process. Discard the skins and return the berry pulp mixture to the pot.

Add the sugar, lemon juice and cinnamon to the pulp mixture and bring to a boil on the stove top. Boil on high, stirring constantly for 6-10 minutes until the mixture reaches the gel point.

Skim off the foam, discard the cinnamon stick and stir in the gin. (If you are using lime juice instead of gin add it at this point.)

Ladle the blueberry jam into hot sterilized jars, leaving ¼" of headspace. Top each jar with a washed and briefly warmed snap lid. (I put the snap lid in boiling hot water for 30 seconds, this softens the seal.) Add the sterilized ring and tighten to finger tip tightness. Process using the boiling water method in a canning pot for 10 minutes.

Remove the jars using a jar lift and place on a cutting board. Do not disturb for 24 hours.

Remove the rings and inspect the jars. Wipe the jars clean with a soapy cloth. Store the jam without the rings on in a dark cool place for up to a year. If any jars have failed to seal, store in the fridge and use immediately.
Video
Nutrition
Serving:
1
tbsp
Calories:
37
kcal
Carbohydrates:
10
g
Protein:
1
g
Fat:
1
g
Saturated Fat:
1
g
Sodium:
1
mg
Potassium:
11
mg
Fiber:
1
g
Sugar:
9
g
Vitamin A:
8
IU
Vitamin C:
1
mg
Calcium:
1
mg
Iron:
1
mg