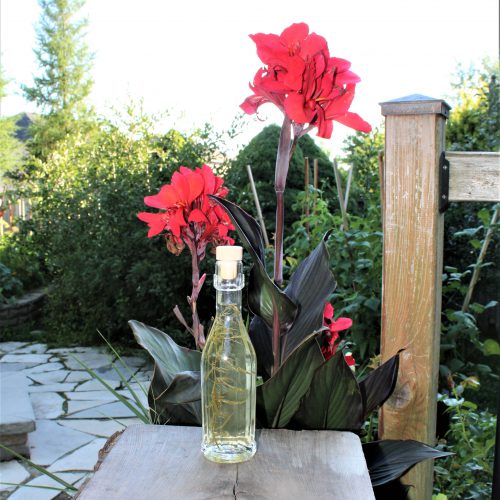 Tarragon Vinegar
Tarragon is a beautiful herb to grow in your garden because it is a perennial and, once planted will come up every year if pruned regularly. It has a licorice-basil-like flavour, and it is good chopped fresh and added to salads and soups. My favourite way to extend the season of this tasty herb is to use it to make tarragon vinegar. It is easy to make and keeps refrigerated for up to 6 months.
Ingredients
½

cup

fresh tarragon leaves

optional-additional sprigs to add to the jars for presentation

2

cups

white wine vinegar

substitute distilled white vinegar if you don't have white wine vinegar
Instructions
Rinse tarragon leaves and pat them dry. Using a rolling pin or a mortar and pestle crush them slightly to release the flavour.

Add the crushed leaves to a sterilized glass jar that will hold 3 cups.

Heat the vinegar until it just starts to boil. Pour the vinegar over the herbs and let steep.

Allow the mixture to come to room temperature and then seal tightly. Do not use a metal lid because, if the vinegar comes into contact with the lid, it will corrode and rust.

Place the container in a dark cool place and leave it for 3 weeks to develop the flavour.

After 3 weeks, strain out the crushed leaves. Fill sterilized decorative bottles and add a sprig or two of fresh tarragon for a nice presentation.

Seal the bottles tightly with nonmetallic lids and store in the refrigerator up to 6 months.

Use this vinegar in place of white wine vinegar in all your favourite marinades or dressings.
Video