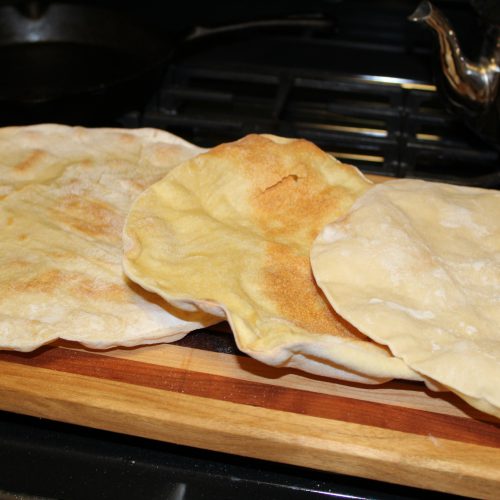 Make Ahead Pizza Crust
This is an excellent, quick and easy, make ahead pizza crust that does not require special equipment. You mix the dough one day and let it set overnight in the fridge. The next day, you form the pizza crusts and bake them. Once the crust is baked you can choose to either prepare it immediately with toppings and bake until the pizza is cooked through, or you can put the crust into a bag and save it for another day. I usually make a double batch so that I have extra crust for days when I just want to throw together a quick meal.
Equipment
optional - Kitchenaid mixer with dough hook attachment
Ingredients
3

cups

all purpose flour

1

tsp

instant yeast

or 1 1/4 tsp regular active dry yeast proofed

2

tbsp

olive oil

1

cup

lukewarm water

If the dough seems dry you can add up to another 1/4 cup of water

1 1/4

tsp

table salt
Instructions
If making the dough by hand: Combine all the ingredients in a large bowl. Once the dough has formed a ball, let the dough rest for 30 minutes. After the dough has sat for 30 minutes, knead the dough for 5-7 minutes.If using a KitchenAid or equivalent style mixer: Combine all the ingredients in the bowl, mix until the dough is formed. Using the dough hook attachment, mix the dough for 7 minutes on medium speed.

Place the dough ball in a greased glass or plastic bowl and then cover it with a tea towel. Allow the dough to rise for 45 minutes. After the 45 minutes, place the dough in the fridge for 4 hours or overnight. I usually put a plastic lid on my bowl when I am leaving it overnight.

Divide the dough into quarters. Either use your hands to stretch the dough into circles or use a rolling pin. Place on a parchment paper lined baking sheet. Let the dough rest/rise for 60 minutes.

Preheat your oven to 450° F. Place a baking stone in the oven. Don't worry if you do not have one. You can bake the pizza crust on a nonstick pan.

After 10-15 minutes your stone will be preheated. Transfer one crust at a time and bake for 7-8 minutes. You will notice that the crust might create a large bubble, making the crust look more like a pita. Open your oven and break the bubble so that the crust will be flatter when finished baking.

Cool the crusts on a wire rack. Place in a bag and store in the refrigerator for 5 days or in the freezer for a month.

To use from frozen, I usually toss the crust in a 450° F preheated oven for 2-5 minutes to thaw. Then I prepare the pizza with my favorite toppings and toss it back in the oven for another 10 minutes until the cheese is melted.
Video