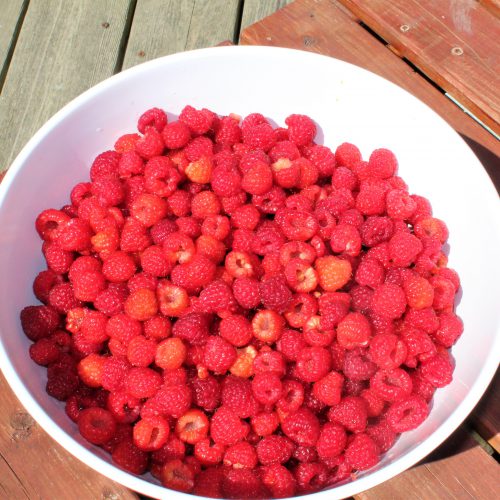 Raspberry Jam
Raspberries have a special place in my heart because they remind me of when my children were young. We would go out picking fruit at local farms every week, and we were all very excited when raspberries were in season because that meant I would be making raspberry jam and jelly. Making raspberry jam is easy following this recipe with only two ingredients, raspberries and sugar. Enjoy this jam on toast or on a peanut (or soynut) butter sandwich.
WATER BATH PROCESSING TIME:
10 minutes for altitudes of 1000 feet or below. Adjust processing time for other altitudes.
Equipment
12-litre stainless steel heavy bottomed pot

optional: strainer

optional: food mill

canning pot

wire basket or tray for the bottom of the canning pot

jar lift

magnetic wand for lid placement

funnel

8-250 ml jars with lids and rings
Ingredients
16

cups

raspberries

rinsed and drained

8

cups

sugar
Instructions
Combine the raspberries and sugar in the 12-litre pot and bring to a simmer over medium-high heat. Reduce to low and slowly simmer, uncovered, stirring frequently.

Continue to simmer until the jam is thick, 35-45 minutes.

If you are planning on making the jam seedless, remove from heat at 10 minutes and pass through a food mill or strainer to remove the seeds. Return the seedless mixture to the pot and continue to cook until the jam is thick.

Ladle the hot jam into sterilized jars leaving ¼" headspace. Run a sterilized knife or thin kitchen utensil through the jam to remove air bubbles. Top each jar with a washed and briefly warmed snap lid. (I put the snap lid in boiling hot water for 30 seconds, this softens the seal.) Add the sterilized ring and tighten to finger tip tightness. Process using the boiling water method in a canning pot for 10 minutes.

Remove the jars and cool on a board or metal rack. Don't disturb for 24 hours.

Remove the rings and inspect the jars. If some of the jam has leaked out onto the jars, wipe them clean with a soapy cloth. Store the jam without the rings on in a dark cool place for up to a year

Store jars that don't seal in the fridge and use immediately.
Nutrition
Serving:
1
tbsp
Calories:
56
kcal
Carbohydrates:
14
g
Protein:
1
g
Fat:
1
g
Saturated Fat:
1
g
Sodium:
1
mg
Potassium:
23
mg
Fiber:
1
g
Sugar:
13
g
Vitamin A:
5
IU
Vitamin C:
4
mg
Calcium:
4
mg
Iron:
1
mg