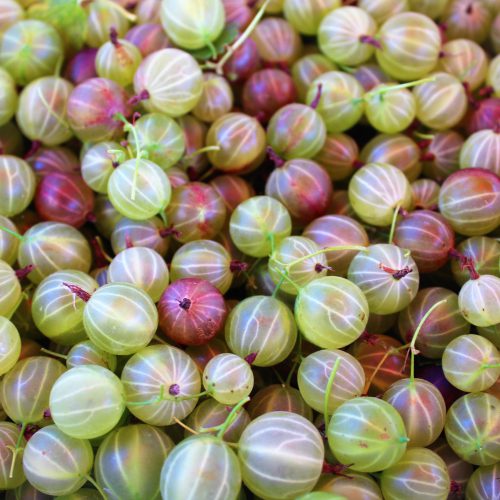 Gooseberry Mango Jam
When I was deciding on how to build an edible garden, I wanted to plant some shrubs that would be low maintenance. I decided to plant gooseberries because, once established, they are drought resistant and pest free. The shrubs have spiny thorns which deter animals from picking the season's harvest. Gooseberries are high in pectin and so making jams and preserves from this berry is a snap. This jam is one of my favourite ways to use gooseberries.
WATER BATH PROCESSING TIME:
10 minutes for altitudes of 1000 feet or below. Adjust processing time for other altitudes.
Equipment
canning pot

wire basket or tray for the bottom of the canning pot

jar lift

magnetic wand for lid placement

6- 250 ml sterilized jars

8-litre stainless steel pot

candy thermometer
Ingredients
6

cups

gooseberries

tipped and tailed, fresh or frozen

½

cup

water

6

cups

sugar

2

cups

mangoes

peeled and finely chopped

¼

cup

bottled concentrated lemon juice
Instructions
Thaw gooseberries if frozen.

In a 6-8 qt heavy pot combine half of the gooseberries and the water.  Use a potato masher to crush berries slightly.  Stir in the remaining gooseberries and the other ingredients. 

Bring all the ingredients to a boil over medium heat, stirring constantly to dissolve sugar; reduce heat.  Simmer gently, uncovered, 30-40 minutes or until mixture sheets off a metal spoon and thickens. If using, attach a candy thermometer to the side of the pot. For the best consistency for this jam cook until the mixture reaches 220°F, stirring frequently (the jam will be dark red in color).  Remove from heat.  Quickly skim off foam with metal spoon.

Ladle hot jam into sterilized 250 ml (half-pint) canning jars, leaving a ¼" headspace. Wipe the jar rims with a hot cloth, add the snap lids and add the rings to finger tip tightness.

Put the jars into a boiling water canner and process the jam for 10 minutes. (Start timing when the water returns to a boil after putting the jars in the canner.)

Remove the jars from the canner and cool on a wire rack or wooden cutting board. Do not disturb for 24 hours. If any jars fail to seal, store in the refrigerator and use immediately.

Remove the rings and inspect the jars. If some of the jam has leaked out onto the jars, wipe them clean with a soapy cloth. Store the jam without the rings on in a dark cool place for up to a year.
Nutrition
Serving:
1
tbsp
Calories:
55
kcal
Carbohydrates:
14
g
Protein:
1
g
Fat:
1
g
Saturated Fat:
1
g
Sodium:
1
mg
Potassium:
25
mg
Fiber:
1
g
Sugar:
13
g
Vitamin A:
64
IU
Vitamin C:
4
mg
Calcium:
3
mg
Iron:
1
mg