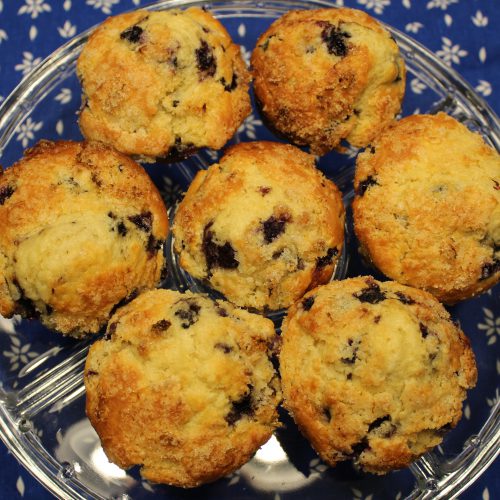 Grammy's Blueberry Lemon Muffins
Having grown up in wild blueberry country in northern Ontario, it is not surprising that wild blueberries have a special place in my heart. I have many fond memories of going camping with my family, and while we were out at the lake we would forage for wild blueberries. I have many recipes that work best with wild blueberries, but I am particularly fond of this blueberry lemon muffin recipe because it holds up well with the larger domestic blueberries as well. Enjoy these muffins all year long by using fresh or frozen blueberries.
Equipment
Muffin tin that holds 12 muffins
Ingredients
Medium bowl:
1½

cups

all-purpose four

1

tsp

baking soda

½

tsp

salt
Large bowl:
½

cup

granulated sugar

¼

cup

unsalted butter, softened

1

cup

full fat sour cream

1

large

egg

2

tbsp

fresh lemon juice, strained

1

tsp

pure vanilla extract

1

tsp

freshly grated lemon rind
Topping:
1

tbsp

sugar

½

tsp

freshly grated lemon rind
Instructions
Preheat your oven to 375°F.

Combine all the ingredients in the medium bowl and set aside.

Mix the topping and set aside.

Beat the butter and sugar in the large bowl until creamy.

To the large bowl add the sour cream, egg, lemon juice, vanilla and the teaspoon of freshly grated lemon rind.

Add the ingredients in the medium bowl to the ingredients in the large bowl and stir until just moistened. The batter will be lumpy.

Spoon the batter equally into greased or paper-lined muffin cups. Sprinkle the topping equally over the batter.

Bake for 20-25 minutes in a 375°F oven.