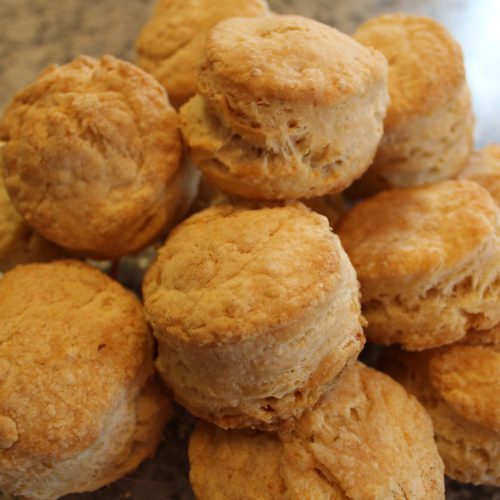 Save and Bake Sourdough Biscuits
I might be an unusual sourdough baker in that I set out some days just to create the discard. So rather than feeding my starter to get it going well to use the "fed" starter, I feed the starter and save the discard for days, so that I can use the "unfed" starter. I do this for 2 or 3 days, collecting the discard. Once I have 3 cups of "unfed" starter in the fridge, I can crank out three batches of these beautiful biscuits in less than an hour. Super delicious warm, straight out of the oven or beautiful to serve as a side with a soup or salad.
Equipment
2 baking sheets

parchment paper-optional
Ingredients
For three-four days, feed your sourdough starter and save the discard in the fridge until you have 3 cups of discard. This will become your 3 cups of "unfed" starter.
To three medium sized bowls add:
1

cup

all-purpose flour

2

tsp

baking powder

¾

tsp

salt
To three small bowls cut up:
8

tbsp

(4 oz) cold unsalted butter
To three small bowls add:
1

cup

"unfed" sour dough starter
Instructions
Preheat your oven to 425°F and set your rack in the oven to the top third.

Line two baking sheets with parchment paper.

Working with one bowl of the flour mixture at a time, add the butter and use a pastry cutter to cut the butter into the flour. Do this until the butter is only visible in small clumps - the size of a small pea.

To that first medium bowl, add the first small bowl of sourdough starter. Cut it in a bit, using knives and then stir it with a spoon. Then, using your hands, knead the rest of the dry ingredients into the the dough. Knead the dough 10-15 times.

Set the dough out on a floured surface and roll to about ¾"-1" high and cut with a 2" biscuit cutter into biscuits.

Put the biscuits on the baking sheet and bake for 22-25 minutes until the tops the biscuits are lightly browned.

While your first biscuits are baking, repeat the process of adding the cold butter to the flour mixture in the second bowl, then the starter, knead and roll etc.

Repeat with the last bowl of flour, etc.

Freeze the biscuits for one month.