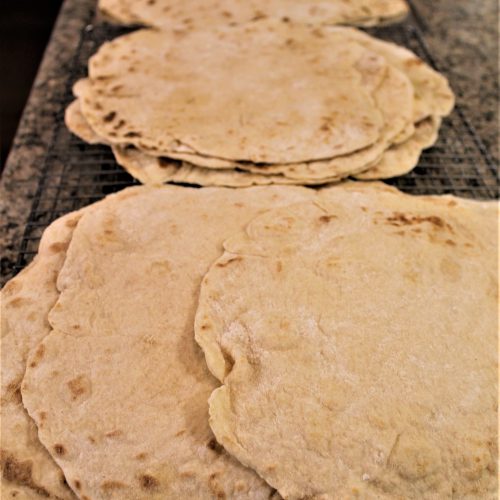 Easy Homemade Tortillas
Tortillas made easy with only five ingredients. Lard and hot water ensure that these tortillas are soft and pliable which makes rolling the dough a dream. I choose to use lard in my tortillas because it is a pantry favourite in my cooking, but you could use shortening or butter in this recipe as well. These tortillas cook up easily in an electric skillet or in a heavy bottomed pan on your stove. Consider making a double batch of these tortillas and store them in the freezer.
Equipment
optional- electric fry pan or skillet
Ingredients
2½

cups

flour

1

tsp

baking powder

½

tsp

salt

¼

cup

lard

¾-1

cup

water

hot tap
For brushing the top of the 8 dough balls
Instructions
Combine the dry ingredients in a large bowl.

Add the lard and, using a pastry cutter or two knives, cut the fat into the dry ingredients. Continue to do this until there are clumps in the flour mixture that are about the size of small peas. You want to have some lumps of fat in the mixture so do not overcut the fat.

Add ¾ cup of the hot water to the bowl and stir. The dough should look a bit shaggy. Add additional water until the dough forms a soft ball, but do not overmix. If you added too much water you can add a little more flour.

Turn the dough ball out onto a floured surface and knead lightly, about 1 minute, to form the ball. Do not knead the dough ball too long, just knead until a soft dough ball is formed. Again, you want to keep the lumps of fat in the dough ball. Too much kneading will break down the fat.

Flatten the ball into a rectangle so that you can easily cut the dough into 8 small dough balls. Cut the dough into 8 balls.

Flatten each ball and place on a parchment lined surface. Oil the top of each flattened ball lightly and then place a clean towel over top. This is just so the dough balls do not dry out while they are resting. Let the dough rest for 30 minutes.

Preheat your electric fry pan to 400°F or if you are using a pan on your stove, heat it to medium-high.

Roll out each dough ball one at a time on a floured surface. Roll them to ⅛"-¼" thick. I like to roll mine thin because I prefer thin tortillas. But, consider your filling. If you are going to use the tortillas for a thick meaty wet filling like souvlaki then make the tortillas ¼" thick. If you are using the tortillas for quesadillas then make the tortillas ⅛" thick.

Pan fry the tortillas for 30 seconds each side, for a total cooking time of 1 minute each.

If using immediately, keep the tortillas warm in a tortilla container or a towel. If making them to use at a later date, cool the tortillas completely and store in the refrigerator or freezer.
Video
Nutrition
Calories:
173
kcal
Carbohydrates:
30
g
Protein:
4
g
Fat:
4
g
Saturated Fat:
3
g
Sodium:
200
mg
Potassium:
42
mg
Fiber:
1
g
Sugar:
1
g
Vitamin A:
56
IU
Vitamin C:
1
mg
Calcium:
38
mg
Iron:
2
mg