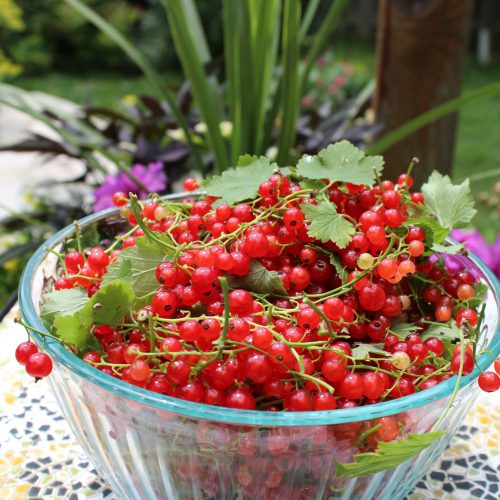 Red Currant Jelly
Growing red currants in my yard makes it convenient and easy to make this jelly. I have four red currant bushes growing along the side of my house and I am always pleased to see the bright red berries in July. My family loves this jelly because it resembles a really good homemade raspberry jelly which is my eldest daughter's favourite jelly. You can use it as a spread on toast or scones, use it as a glaze on fruit tarts or use it as a pectin source for other preserves.
WATER BATH PROCESSING TIME:
10 minutes for altitudes of 1000 feet or below. Adjust processing time for other altitudes.
Equipment
canning pot

wire basket or tray for the bottom of the canning pot

jar lift

magnetic wand for lid placement

4-125 ml sterilized jars

funnel

8-litre stainless steel pot

cheesecloth

fine mesh strainer
Ingredients
2

pounds

stemmed red currants

2¼ pounds with stem

1

cup

water

3

cups

sugar
Instructions
Rinse the currants and stem them if desired. (It is not necessary to stem the currants before making the juice but I like to.)

In a large pot, bring the currants and water to a boil. Mash the berries a couple of times with a potato masher or large spoon. Simmer for 10 minutes.

Strain out the juice (pectin stock) through a fine mesh colander lined with a double layer of cheesecloth. Alternatively, strain through a jelly bag. For the clearest jelly do not squeeze the bag. Let the juice drip through the colander for at least 15 minutes.

Preheat your oven to 225°F.

Measure out the juice. For every cup of juice you will need a cup of sugar.

Optional: Spread out your sugar onto a rimmed baking sheet and then warm it in the 225°F oven for 15 minutes. Preheating the sugar will mean that your jelly will reach the gel point quicker in step 8.

Pour the strained red currant juice in to your 8-litre stainless steel pot and bring to a boil.

Add the sugar and continue to boil until you reach the proper consistency for jelly or what is called the gel point. This should take about 5-6 minutes. You will want to watch this closely as you do not want to boil off too much of the liquid. To determine if your jelly has reached the gel point you can use a candy thermometer clipped to the side of your pan. When the thermometer reaches 220°F your jelly should be ready to can. I like to just use a stainless steel spoon to determine if my jelly is ready. I run the spoon through the hot liquid and then turn the stainless steel spoon on its side. When the jelly forms droplets on the spoon edge, the jelly is done. Check out the video How To Make Red Currant Jelly for a demonstration.

Working quickly, ladle the jelly into sterilized jars leaving ¼" head space. Top each jar with a washed and briefly warmed snap lid. (I put the snap lid in boiling hot water for 30 seconds, this softens the seal.) Add the sterilized ring and tighten to finger tip tightness. Process using the boiling water method in a canning pot for 10 minutes.

Remove the jars and cool on a board or metal rack. Don't disturb for 24 hours.

Remove the rings and inspect the jars. If some of the jelly has leaked out onto the jars, wipe them clean with a soapy cloth. Store the jelly without the rings on in a dark cool place for up to a year.

Store jars that don't seal in the fridge and use immediately.
Video
Notes
Nutrition
Serving:
1
tbsp
Calories:
118
kcal
Carbohydrates:
30
g
Protein:
1
g
Fat:
1
g
Saturated Fat:
1
g
Sodium:
1
mg
Potassium:
104
mg
Fiber:
2
g
Sugar:
28
g
Vitamin A:
16
IU
Vitamin C:
15
mg
Calcium:
12
mg
Iron:
1
mg