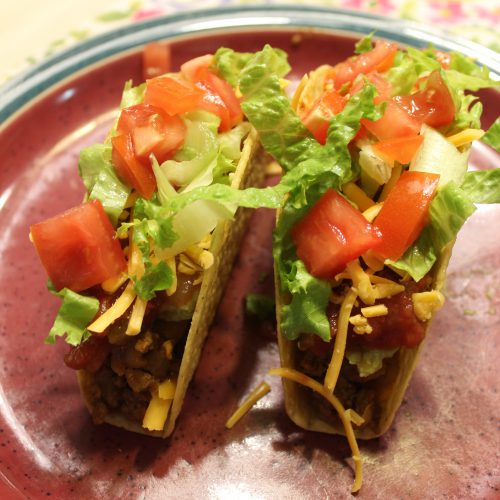 Soda Pop Chicken Taco
A great recipe to make when you want a super flavourful chicken taco and, as a bonus, the chicken is marinated the night before you cook it, making it quick and easy to prepare for dinner. Enjoy the levels of flavour, created first with the marinade of soy sauce, crushed garlic and the secret ingredient... soda pop! Second apply a spice rub of ground coriander and chili powder just prior to cooking. This recipe tastes best barbequed, because of the added smokiness the barbeque adds to the chicken, but you could also cook it in your oven. For the best flavour, choose a citrus flavoured pop like Jones Soda lemon-lime or a Mexican soda like Jarritos tamarind flavour. These soda pop brands work well in this marinade because both of these sodas are sweetened with natural cane sugar .
Ingredients
10-12

(2 lb)

boneless skinless chicken thighs

1

355 ml

(12 oz) bottle of Jones Lemon-Lime or Jarritos Tamarind soda

Or choose any citrus flavoured soda pop sweetened with natural sugar.

½

cup

soy sauce

2

tbsp

ground coriander

1½

tbsp

ground mild flavoured chili powder

(Ancho chili powder is the blend I use.)

3

medium

cloves of garlic, crushed
Instructions
Combine the soy sauce, soda pop and the crushed garlic in a 4-litre container that has a lid. Add the chicken and mix. Place the lid on the container and put it in the fridge overnight.

The next day, remove the chicken and pat all the pieces dry. Combine the coriander and chili powder in a small bowl. Sprinkle the mixture on both sides of the chicken and press it in lightly.

Preheat your BBQ on high temperature to 450°F.

Turn the BBQ down to low and then cook the chicken pieces until the chicken is cooked through - about 15 minutes a side but test with a meat thermometer. Chicken thighs are done when the meat thermometer registers 165°F.

Let the chicken rest for 5 minutes and then slice on a cutting board. Serve with your favourite taco shells and toppings or serve it on a crisp garden salad.
Taco shells and toppings:
12 hard or soft tacos shells, chopped fresh tomatoes, chopped fresh red onions, salsa, sour cream, cheddar cheese, guacamole, pickled jalapenos
Notes
If you are not intending on eating all the chicken the day you cook it, leave the chicken pieces whole and slice after you reheat them.  
Note: Soft corn taco shells are really easy to make. Mix 2 cups of Masa flour and 1 ½ cups of water.  Stir to combine.  Form into balls and press each one flat between two floured pieces of plastic.  ( A tortilla press works great!) Heat a large frying pan to medium-high, cook each tortilla 30 seconds a side. Keep the cooked tortillas a container or t-towel to keep them moist.