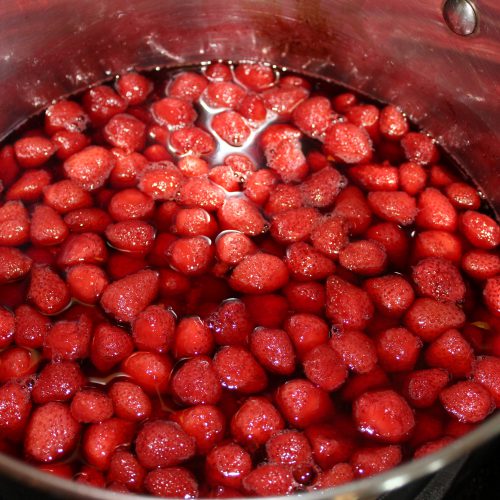 Strawberry Preserves
Summer is finally here when local strawberries are available at the market. One of the first preserves I make with strawberries is this classic strawberry preserve. I love making this preserve because it does not use commercial pectin or a ton of granulated sugar. Instead, the preserve gets consistency and flavour from concentrating the strawberry juices prior to making the preserve. Enjoy this preserve all year long by mixing it in plain yogurt, oatmeal or topping your favourite biscuit or scone.
WATER BATH PROCESSING TIME:
5 minutes for altitudes of 1000 feet or below. Adjust processing time for other altitudes.
Equipment
canning pot

wire basket or tray for bottom of the canning pot

jar lift

magnetic wand for lid placement

4-250 ml sterilized jars with rings

8-litre pot

funnel

strainer
Ingredients
3

pounds

strawberries

washed, hulled and, if large, quartered. Small berries can be left whole.

3

tbsp

lemon juice

freshly squeezed and strained of pulp and seeds. Substitute concentrated lemon juice if needed.

1½

cups

granulated sugar
Instructions
The first day:
Layer the strawberries and sugar in a 8-litre stainless steel pot and cook on medium-high heat about 5 minutes, stir to prevent burning or sticking. After 5 minutes the strawberries should have released enough water so that they are covered in liquid.

Cool the pot completely and put in the refrigerator overnight.
The second day:
Strain off the liquid. Set the berries aside and pour the liquid back into the pot.

Return the pot to the stove and bring to a boil. Once boiling, reduce the temperature to a simmering boil and cook for 10-20 minutes to reduce the liquid to 1½-2 cups.

Return the strawberries to the pot and add the lemon juice.

Put the pot back on the stove and bring to a boil. Once boiling, reduce the temperature to a simmering boil and cook for 15-20 minutes. Skim off the foam.

Pour the hot strawberry preserves into hot sterilized jars, leaving ¼ inch headspace. Run a sterilized knife or thin kitchen utensil through the preserve to remove air bubbles. Top each jar with a washed and briefly warmed snap lid. (I put the snap lid in hot boiling water for 30 seconds, this softens the seal.) Add the sterilized ring and tighten to finger tip tightness. Process using the boiling water method in a canning pot for 5 minutes.

Remove the preserves and set out on a wooden board or metal rack to cool and seal. Don't disturb the jars for 24 hours.

Remove the rings and inspect the jars. If some of the preserves have leaked out onto the jars, wipe them clean with a soapy cloth. Store the preserves without the rings on in a dark cool place for up to a year.

Store jars that don't seal in the fridge and use immediately.
Video
Notes
Nutrition
Serving:
1
tbsp
Calories:
28
kcal
Carbohydrates:
7
g
Protein:
1
g
Fat:
1
g
Saturated Fat:
1
g
Sodium:
1
mg
Potassium:
33
mg
Fiber:
1
g
Sugar:
7
g
Vitamin A:
3
IU
Vitamin C:
13
mg
Calcium:
3
mg
Iron:
1
mg